Grip Conveyor Chains ensure gentle handling.
Press Release Summary: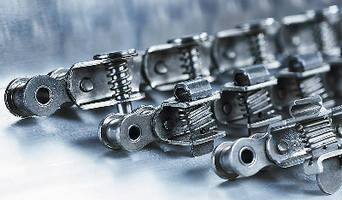 Grip chains with clamping elements are used for gripping, collecting, and transporting thin-walled, large-surface materials in packaging, food/beverage, and electronics industries. Adjustable spring force ensures sensitive materials are handled gently during processing to avoid damage, while swivel arrangement ensures optimal feeding and precise positioning. Available as simplex and duplex chain according to DIN 8187-1, chains and clamping elements are wear- and corrosion-resistant.
---
Original Press Release:

Special-Purpose Conveyor Chains from Iwis - High Quality Grip Chains for Reliable Feeding, Transportation and Positioning



Munich, Germany, March 2009. Chain manufacturer Iwis introduces grip chains with wear- and corrosion-resistant clamping elements. The special-purpose conveyor chains are used for gripping, collecting and transporting thin-walled, large-surface materials, for example in the packaging, food and beverages and electronics industries, in circuit-board production and in metal processing.

Sensitive materials, such as packaging foils, thin-walled sheet metals, plastics and other hard sheet and strip materials must be handled gently during processing to avoid damaging the conveyed materials in transport, positioning, drawing in, punching, welding, filling, coating, cutting, stretching, forming or sealing. Iwis grip chains with clamping elements feature a special swivel arrangement that ensures optimised feeding and precise positioning of the conveyed products. The spring force can be adjusted to allow gentle gripping of a wide range of materials. Chain and clamping elements are wear-resistant, corrosion-protected and pre-lubricated with food-safe lubricant as standard.

The grip chains are available as simplex and duplex chain according to DIN 8187-1. The grippers have either one or two tips; on request special gripper designs are also available. Because the applied holding force depends on the conveyed goods and the spring type used in the grippers, the chains are supplied with different numbers of turns and spring wire diameters. A special type with cup grippers for foil transport is also available.

In addition to special-purpose chains, Iwis supplies a wide range of high quality precision roller and conveyor chains, maintenance-free chains, corrosion-resistant chains and accessories for numerous industrial applications, including machine and plant construction, material handling systems and the packaging, printing and food industries.

Iwis at Motion, Drive & Automation, Hannover, Germany, 20 - 24 April 2009: Hall 25 Stand B26

Company information:

Headquartered in Munich, Germany, the Iwis group is a leading manufacturer of precision chain systems for power transmission and product conveying applications. The Iwis Group comprises three divisions: Iwis Motorsysteme GmbH & Co KG provides engine timing drives for the automotive industry; Iwis Antriebssysteme GmbH & Co KG supplies a wide range of precision roller and conveyor chains for industrial applications, including machine and plant construction, material handling systems, the packaging, printing and food industries and other applications. Iwis Antriebssysteme GmbH, formerly known as Flexon GmbH, specialises in roller, flyer and special-purpose chains as well as chains for agricultural machinery and accessories. Still run as a family business - now in its fourth generation - Iwis today employs about 1,100 people at its three production sites in Munich, Strakonice in the Czech Republic and the Bavarian town of Landsberg am Lech. With subsidiaries in the United Kingdom and Switzerland and further sites in France, the USA, Brazil and China, the Iwis group has a global presence, supplying customers and partners in more than 45 countries.

Contact in the USA:
iwis drive systems, LLC
Building 100
8266 Zionsville Road
Indianapolis, IN 46268, USA
Tel: 317 821 3539
Fax: 317 821 3569
E-mail: sales@iwisusa.com
Internet: www.iwisusa.com

Contact in Germany:
iwis Antriebssysteme GmbH & Co KG
Albert-Rohaupter-Str. 53
D-81369 Munich, Germany
Tel.: +49 89 76909 1500
Fax: +49 89 76909 1229
E-mail: sales@iwis.com
Internet: www.iwis.com

More from Mechanical Components and Assemblies