Grinding Wheels utilize X10 technology.
Press Release Summary: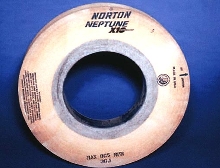 Neptune roll grinding wheels resist softening when exposed to water-based coolants. Three different resin bond systems are available: Neptune SR (Soft Roll), Neptune MR (Medium Roll), and Neptune HR (Hard Roll). Roll grinding wheels are available from H to P grades in sizes from 12 to 42 in. in diameter with grit sizes from 30 to 220. They grind rolls made from cast iron, cast steel, forged steel, and high chrome alloys.
---
Original Press Release:

New Abrasives Technology for Roll Wheel Grinding Resists Softening Under Flood Coolant Conditions


Neptune* X10 Technology* Allows Longer Life in Steel Mill Applications

WORCESTER, Mass., (March 7, 2002) - A new line of Norton brand roll grinding wheels that resist softening when exposed to water-based coolants has been introduced by Saint-Gobain Abrasives. The Neptune* roll grinding wheels employ the proprietary X10 Technology*, developed at the Worcester, Mass.-based Norton facility by the Saint-Gobain Research and Development Group.

David Chase, Manager, Neptune Roll Grinding Products, says the X10 Technology prevents the Neptune wheel's resin bond from softening in water-based coolant applications, a typical problem for hot mill roll grinding applications. Tested against standard wheels in various hot mill applications, the Neptune wheel exhibited between 15-35 percent longer life and maintained a more consistent performance during the entire grinding operation. The Norton brand Neptune roll grinding wheels provide the same surface finish and grind at the same power level as standard wheels, while removing more cubic inches of metal per wheel.

"The Neptune wheel's longer life benefit means the operator no longer has to constantly stop what he's doing to tweak the machine set-up to compensate for wheel wear," said Chase. "In addition, the Neptune wheels are fitted and used just like standard wheels, so there's no need to spend time and money retraining personnel. The X10 technology saves money by saving operator time and decreasing machine downtime."

Switching from standard roll grinding wheels to Neptune wheels can save company thousands of dollars a year. The Neptune roll wheels exhibit between 15-35 percent longer life, which results in a reduction in the number of wheels used. This translates into significant cost/part savings. Chase said, for example, that a factory spending $100,000 per year on grinding wheels could realize a 30 percent wheel performance improvement and save about $20,000 a year in abrasives costs.

The Neptune line is available in three different resin bond systems in order to meet the entire range of roll grinding needs, and can be used on the older, low power machines and the newer high horsepower machines. They will grind rolls made from cast iron, cast steel, forged steel and high chrome alloys.

- Neptune SR (Soft Roll) provides free cutting action and is best suited for grinding very hard rolls, and for use on grinding machines with less than 10 horsepower per inch of wheel face.
- Neptune MR (Medium Roll) uses the most versatile roll grinding bond and is applicable for all types of rolls and grinding machines with 10 or more horsepower per inch of wheel face.
- Neptune HR (Hard Roll) is the most durable of the three, and is designed for heavy grinding on high horsepower machines.

Neptune roll grinding wheels are available from "H" to "P" grades in sizes from 12-42 inches in diameter and grit sizes from 30-220.

For more information about the Neptune product line with X10 Technology, contact David Chase at (508) 795-5000, or call 1-800-446-1119 to locate a distributor near you. To view and download a picture of a Neptune roll grinding wheel for publication, go to: ryanwellnitz.com/norton_neptune_product_photos.htm.

Norton is a brand of Saint-Gobain Abrasives, a division of Saint-Gobain. Saint-Gobain, one of the top 100 industrial companies in the world, is a leading producer of abrasives, building materials, flat glass, insulation, reinforcements, packaging, pipe, ceramics and plastics. Headquartered in Paris, Saint-Gobain's annual sales approximate $27 billion. The company has 170,000 employees in 45 countries. In the U.S. and Canada, Saint-Gobain employs 28,000 people, and has about 200 manufacturing locations. Its total U.S. and Canada sales in 2001 were $6.4 billion. Saint-Gobain's web site is www.saint-gobain.com. The Norton web site is www.nortonabrasives.com.

editorial contact:

Barry Cole
Saint-Gobain Abrasives
(508) 795-5709
Barry.D.Cole@saint-gobain.com

or

Andy Ryan
Ryan Wellnitz & Associates
(401) 246-2399
andy@ryanwellnitz.com

More from Test & Measurement