Unmounted Superabrasive Wheels
Grinding Wheels suit conventional, high-speed applications.
Press Release Summary: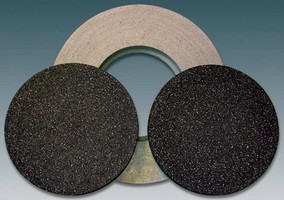 Black Magic disc wheels feature bond material that incorporates induced porosity with internal lubricants, promoting productivity in spring grinding. Reversing direction of grinding wheel every 3-4 hr minimizes dressing downtime. Featuring multiple layers of bonded cBN, cBN button wheels promote consistent finish throughout their life in spring dry grinding applications at speeds of 10,000-24,000 sfpm. They achieve interrupted spring end cut for optimal heat dissipation.
---
Original Press Release:

New Grinding Wheels from Citco and Gardner Abrasives Target Productivity Improvements for both Conventional and High-Speed Grinding Applications



Chicago, IL, September 6, 2006 - The CITCO and Gardner Abrasives Operations of Cinetic Landis Grinding Corp. are presenting an array of new, productivity-boosting grinding wheels with features to suit the requirements of grinders with conventional or high-speed spindles at IMTS in booth B-7533 and E-2114. Included are Gardner's innovative "Black Magic" disc wheels that have a proprietary formulation making them suitable for grinding a wide range of spring materials; high performance cBN button wheels for high-speed dry grinding applications; superabrasive disc wheels for grinding hard or difficult to grind materials including ceramics; and custom designed and engineered wheels using ceramic grain to increase wheel life and reduce dressing to minimize grinding costs.

CITCO's lineup in the Grinding & Abrasives Pavilion includes a variety of specialty diamond and cBN grinding wheels that offer the ability to grind at low rpm and achieve lapping tolerances and finishes; a line of monocrystal diamond dressing tools that yield consistent dressing results and longer life that can result in a significant reduction in cost per part; and the company's rotary dressers manufactured with cvd diamond that are custom-designed to meet individual customer requirements.

The Gardner Black Magic disc grinding wheel features a new, proprietary bond material that incorporates induced porosity with internal lubricants. This unique design enables a significant productivity improvement in spring grinding when compared with traditional magnesite-bonded wheels. For example, a 36-inch diameter Black Magic wheel made with ceramic grain for grinding stainless steel springs outperformed a magnesite-bonded ceramic grain wheel by a 2:1 ratio. Production rates (springs produced per hour) were doubled using the new Black Magic wheels.

By reversing the direction of the Black Magic grinding wheels every 3-4 hours, downtime for dressing can virtually be eliminated. Even without directional change of the wheels, dressing is drastically reduced.

At IMTS, Gardner Abrasives is also featuring its new grinding wheel utilizing bonded cBN for dry grinding of springs. The unique, patented wheel design features multiple layers of cBN, resulting in a more consistent finish as well as better performance at speeds of 10,000 sfpm when compared to single-layer electroplated cBN wheels. Even better results have been obtained with wheel speeds up to 24,000 sfpm.

To maintain a more consistent finish, the Gardner cBN matrix uses a finer grain for a finer finish right from the start. The spacing between the matrix is filled with a proprietary composition designed to wear at a similar rate as its cBN-bearing matrix. Thus, unlike conventional cBN electroplated wheels that produce a very coarse finish when the wheel is new and which gradually improves as the single layer of cBN grain wears, the Gardner wheel produces the same fine finish throughout the life of the grinding wheel. The cBN matrix layers have been processed regularly with depths of 1 inch (25mm). Virtually no maintenance is required. Mount to your spindle collar, run several springs for break-in, then watch it grind and grind and grind.

Another advantage of the new bonded cBN wheel is reduced heat damage. The wheels have been designed to achieve an interrupted spring end cut, which allows the heat of grind to be dissipated faster than a continuous cut. Smaller cBN grain can be used which develops lower heat per grain cut path. Also, less heat is produced because the wheels are able to maintain a sharper cutting edge than, for example, conventional aluminum oxide or ceramic grain abrasives.

With these features, the new Gardner bonded cBN wheel is ideal for ultra-high speed spring grinding in a variety of hard metals. This range of materials includes stainless steel, chrome vanadium, chrome silicon, music wire as well as titanium.

Complete information on CITCO and Gardner Abrasive's comprehensive line of high-performance abrasive products may be obtained by contacting Don Schlie at Gardner Abrasives, 481 Gardner St., South Beloit, IL 61080; telephone 800-325-0256; Web: www.gardnerabrasives.com.

The CITCO and Gardner Abrasives Operations of Cinetic Landis Grinding Corp. are part of Cinetic Industries, a leading global provider of best-in-class solutions for manufacturing dedicated to helping customers meet the challenges of global competition.

More from Laboratory and Research Supplies and Equipment