Grinding Wheels offer custom-matched dressing tools.
Press Release Summary: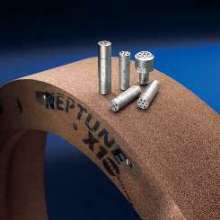 Neptune X10 Grinding Wheels come in P-grade in sizes from 8-42 in. and grit sizes from 36-120. Soft, Medium, and Hard bond systems cover range of double disk grinding needs. X10-20, 30, and 35 tool styles contain 3 layers of multi set diamonds, and are suited for wheels up to 20, 30-36, and larger than 36 in., respectively. Single-layer, 7-diamond X10-7 is for 24-36 in. wheels. With diamond sections at both ends of shank, X10-G2 dresses dual wheels up to 24 in. in diameter simultaneously.
---
Original Press Release:

Norton Introduces Custom Matched Dressing Tools For Neptune X10 Grinding Wheels


-- The Combination of X10 Dressing Tools and Neptune Technology Increases Wheel Life Up to 50% on the Precision Grinding Automotive, Bearing and Hand Tool Components --

WORCESTER, Mass., May 4, 2004 -- The Neptune X10 grinding wheels use a revolutionary technology that outperforms all previously available precision organic resin bonded grinding wheels by eliminating wheel softening under flood coolant conditions. The wheel acts uniformly for a longer time, saving operators valuable time by not forcing them to constantly tweak the machine set-up in order to achieve a longer life benefit. This translates into 30-50 percent longer life.

The Neptune disc grinding wheel line is available in "P" grade in sizes from 8-42 inches and grit sizes from 36-120. The wheels are offered with three different bond systems to cover the full range of an operator's double disc grinding needs. Neptune SD (Soft Disk) is the most versatile and the best choice for applications where quality of a part's finish is important, including automotive engine parts (cylinder heads, connecting rods, etc.), automotive components (including valves, valve seat inserts, transmission gears, and piston rings), and to job shops. Neptune MD (Medium Disk) is more durable than the SD and best used for light stock removal applications, including bearing races and bearing roller end grinding. Neptune HD (Hard Disk) is designed for applications that demand durability, such as hand tools (pliers, wrenches, sockets).

Norton X-10 series of dressing tools consists of a broad selection of dressing tools with specially selected diamond suitable for the dressing of Neptune wheels. The best way to maximize disc grinding productivity is to match the right Norton Neptune X10 wheel with a Norton X10 series tool.

X10-20, 30 and 35 tool styles contain three layers of multi set diamonds. The diamonds are interlocked between layers so the next layer of diamonds is exposed before the previous layer of diamonds is worn away. The X10-20 diamond tool is for wheels of up to 20" in diameter, X10-30 is for wheels of 30-36" diameters, and X10-35 is for wheels larger than 36". The X10-7, a single layer, seven diamond cluster tool is recommended for wheel diameters between 24-36 inches and X10-G2 with diamond sections at both ends of the shank. This tool has the versatility to be used to dress dual wheels of up to 24" in diameter simultaneously.

Norton is a brand of Saint-Gobain Abrasives, a division of Compagnie de Saint-Gobain. Saint-Gobain, one of the top 100 industrial companies in the world, is a leading producer of abrasives, building materials, flat glass, insulation, reinforcements, packaging, pipe, ceramics and high-performance plastics. Headquartered in Paris, Saint-Gobain's annual sales approximate $33.5 billion. The company has more than 170,000 employees in 46 countries. In the U.S. and Canada, Saint-Gobain employs about 26,000 people, and has 190 manufacturing locations. Its total U.S. and Canada sales in 2003 were $6.5 billion. Saint-Gobain's web site is www.saint-gobain.com.

The Norton web site is www.nortonabrasives.com.

More from Construction Equipment and Supplies