Grinding Wheels help minimize operator fatigue.
Press Release Summary: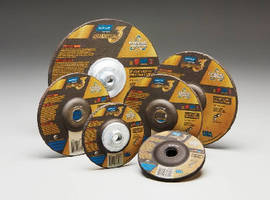 Constructed using precisely engineered iron, sulfur, and chlorine-free resin technology, QUANTUM3™ (NQ3) Depressed Center Grinding Wheels provide uniform abrasive distribution throughout wheel. Unique bond was designed for retaining grains long enough during and after grain fractures, optimizing cut rates and wheel life. Offered in 4 x ¼ x 3/8 in. to 9 x ¼ x 7/8 in. sizes, wheels come in 12 Type 27 all-purpose models, 1 Type 28 all-purpose model, and 2 Type 27 models for foundry applications.
---
Original Press Release:

New Norton QUANTUM3 Grinding Wheels Reduce Grinding Time, Downtime and Waste, While Increasing Operator Comfort



WORCESTER, MA, USA – Saint-Gobain Abrasives, the world's largest abrasives manufacturer, has introduced Norton QUANTUM3™ (NQ3) Depressed Center Grinding Wheels. Featuring a proprietary grain along with a tougher bond system containing a unique combination of fillers and bonding agents that allow for much better mix quality in manufacturing, NQ3 provides substantially faster grinding for more metal removal and longer wheel life, with less operator fatigue, to significantly increase grinding output. Test results conducted with NQ3 and competitive wheels revealed that NQ3 removed almost twice the amount of carbon steel at five minute intervals. A video of NQ3 performance in addition to a white paper and product brochure, can be viewed at http://www.nortonindustrial.com/nq3/.



Norton Quantum3 wheels are constructed using a precisely engineered iron, sulfur and chlorine-free resin technology to provide a uniform abrasive distribution throughout the wheel. This unique bond was designed for retaining the grains long enough during and after grain fractures. This subtle but powerful bond characteristic enables both excellent cut rates and exceptionally long wheel life.



"Norton Quantum3 grain tends to be more rounded than precision-shaped ceramic grain. This allows a more robust, sharper cutting action with less vibration, for much easier operator control. These wheels don't grab or dig when used in any direction. They simply glide through the workpiece while removing metal. This also means the free cutting control can boost the amperage on its own without additional pressure needed on the tool," said Debbie Gaspich, Norton Abrasives director of product management, North America. "Norton Quantum3 grinding wheels are made in the USA and provide users the lowest total operating cost and the most productive grinding yield in the industry."



The new Quantum3 wheels are offered in 12 Type 27 all-purpose grinding application SKU's, one Type 28 all-purpose and two Type 27 SKU's for foundry applications. All products are currently in stock. Sizes range from 4" x ¼" x 3/8", to 9" x ¼" to 7/8".



About Saint-Gobain Abrasives

Backed by its experience and its capacity to continuously innovate, Saint-Gobain, the world leader in the habitat and construction market, designs, manufactures and distributes high-performance and building materials providing innovative solutions to the challenges of growth, energy efficiency and environmental protection. With 2015 global sales of $44 billion, Saint-Gobain operates in 64 countries and has more than 180,000 employees. For the fourth year in a row, the Company has been ranked by Thomson Reuters as one of the Top 100 Global Innovators.



In the United States and Canada, Saint-Gobain has more than more than 150 locations and approximately 15,000 employees, with sales of approximately $5.7 billion in 2015. Saint-Gobain is the world leader in abrasives and the only international manufacturer to offer a full complement of abrasives products to customers worldwide.



Saint-Gobain's Abrasives business employs nearly 11,000 people at 64 manufacturing facilities in 27 countries. In the United States and Canada, Saint-Gobain's Abrasives business has more than 2,100 employees at eight manufacturing sites. For more than 30 years, Saint-Gobain Abrasives has supported the United States Luge Association by providing engineering expertise to improve the performance and speed of luge athletes and by donating its Norton® brand of abrasive products. Since 2009, Saint-Gobain has been the primary sponsor of the USA Luge team.



For more information about Saint-Gobain, visit www.saint-gobain.com and the twitter account @saintgobain or download the "Saint-Gobain Shareholder" application for tablet and smartphone.



More from Packaging Products & Equipment