Grinding Wheels do not soften in water-based coolant..
Press Release Summary: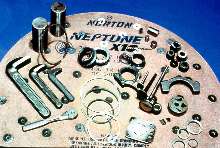 Neptune(TM) Disc Grinding Wheels utilize X10 technology(TM) to prevent their resin bond from softening in water-based coolant applications. Available in 3 resin bond systems suited to double disc grinding applications, discs include Neptune SD (soft disc), MD (medium disc), and HD (hard disc). Neptune disc wheels are available up to P grade in sizes from 8 to 42 in. and grit sizes from 36 to 120.
---
Original Press Release:

New Abrasives Technology for Disc Wheel Grinding Resists Softening Under Flood Coolant Conditions


Neptune(TM) X10 Technology(TM) Allows Longer Life in Automotive and Bearing Finish Grinding Applications

Worcester, Mass., September 4, 2002 - Norton Abrasives is exhibiting their new Neptune(TM) disc grinding wheels at IMTS booth #B7200. Neptune disc grinding wheels can achieve nearly double the performance of standard organic resin bond wheels when grinding with water-based coolant Formulated with the proprietary X10 Technology(TM), the Neptune(TM) disc grinding wheels were developed at the Worcester, Mass.-based Norton Abrasives facility by the Saint-Gobain Research and Development Group.

Patrick Dwyer, Manager, Neptune disc grinding products, says the X10 technology prevents the Neptune wheel's resin bond from softening in water-based coolant applications, a typical problem with standard disc grinding wheels. This translates into the Neptune wheel exhibiting dramatically longer life (30-50 percent), while maintaining a more consistent performance during the entire grinding operation.

"This saves the operator valuable time by not requiring him to constantly stop and tweak the machine set-up in order to compensate for wheel wear," said Dwyer. "Because the Neptune wheels are used just like standard wheels, there's no need to spend time and money retraining personnel. If an operator is handed a Neptune wheel, he can begin using it right away and immediately becomes more productive."

Saving time means saving money, and the 30-50 percent longer life benefit of the Neptune wheels translates into significant cost/part savings. If a factory spends $100,000 annually on grinding wheels, a 30 percent wheel performance improvement typically represents a savings of $9,000 a year in abrasives costs.

The Neptune product line is available in three different resin bond systems in order to cover the entire range of double disc grinding applications.

o Neptune SD (Soft Disc): the most versatile, and best choice for applications where quality of a part's finish is important, including automotive engine parts (cylinder heads, connecting rods, etc.), automotive components (including valves, valve seat inserts, transmission gears, and piston rings), and to job shops.

o Neptune MD (Medium Disc): more durable than the SD, best used for light stock removal applications, including bearing races and bearing roller end grinding.

o Neptune HD (Hard Disc): designed for applications that demand durability, such as hand tools (pliers, wrenches, sockets).

Neptune disc wheels are available up to "P" grade in sizes from 8-42 inches and grit sizes from 36-120.

For more information about the Neptune product line with X10 Technology, contact Patrick Dwyer at (508) 795-5000, or call 1-800-446-1119 to locate a distributor near you.

Norton is a brand of Saint-Gobain Abrasives, a division of Saint-Gobain. Saint-Gobain, one of the top 100 industrial companies in the world, is a leading producer of abrasives, building materials, flat glass, insulation, reinforcements, packaging, pipe, ceramics and plastics. Headquartered in Paris, Saint-Gobain's annual sales approximate $27 billion. The company has 170,000 employees in 45 countries. In the U.S. and Canada, Saint-Gobain employs 28,000 people, and has about 200 manufacturing locations. Its total U.S. and Canada sales in 2001 were $6.4 billion. Saint-Gobain's web site is www.saint-gobain.com. The Norton web site is www.nortonabrasives.com

Contact:
Barry Cole
Saint-Gobain Abrasives
508-795-5709
Barry.D.Cole@saint-gobain.com

Barbara Wellnitz
Ryan Wellnitz & Associates
508-698-3374
bwellnitz@ryanwellnitz.com

More from Software