Grinding Wheel offers optimized material removal rate.
Press Release Summary: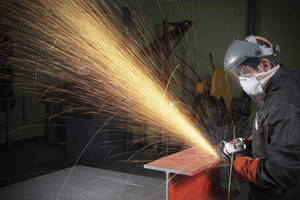 Designed for grinding jobs for industry metal fabrication shops, XCAVATOR features aggressive, coarse front layer of enriched Zirconium grain to optimize removal rates. Strengthened disc base/backing promotes grinding power and aggression, while UHR multi-layer manufacturing technology prevents edge flakiness. Free of such materials as iron, sulfur, and chlorine, vibration-absorbing wheel minimizes/eliminates chance of contaminating surfaces such as stainless steel.
---
Original Press Release:

Walter Surface Technologies Unleashes the XCAVATOR Ultra High Removal Grinding Wheel



Designed for the most demanding metal shop jobs, this new grinding wheel delivers maximum performance, removal rate and value.



Montreal QC / Windsor CT -- Walter Surface Technologies, a global industry leader in surface treatment technologies, today introduced XCAVATOR, the newest, most powerful member of Walter's innovative family of high performance grinding wheels to date. Designed for the toughest, most demanding grinding jobs for a range of industry metal fabrication shops such as Metal Fabrication, Steel Mills,  Mining, Oil & Gas, and ship building, the XCAVATOR ultra high removal grinding wheel delivers heavy-duty performance and the highest level removal rate in the Walter range of industry-leading grinding wheel products.



Tested on some of the world's hardest resources – including tungsten carbide, tempered steel, Inconel, Hardox, and Boron steel,  XCAVATOR's extra aggressive, coarse front layer of enriched Zirconium grain has gone through rigorous testing to help deliver the industry's highest removal rates.  A powerful wheel for powerful industry environments, XCAVATOR helps ensure optimal power transfer – from operator to working surface – for the toughest jobs.



XCAVATOR features an extra strong disc base/backing for more powerful and aggressive grinding action. It also features Walter patented UHR multi-layer manufacturing technology to prevent edge flakiness – keeping the wheel edge symmetrically round for more safety and longer life.



"Today's demanding fabrication environments require the utmost in power when it comes to grinding wheel technology and Walter has developed the new XCAVATOR to deliver this. Grinding represents a major part of shop costs and XCAVATOR stands tall as a heavy-duty grinding wheel that helps save time, save money and is built to last," said Jean-François Dubois, Director of Marketing, Canada, Walter Surface Technologies.



Created for use with powerful grinding machines, XCAVATOR performs removes over 30% more grams per minute compared to other Ultra High Removal wheels, while at the same time absorbing vibrations, allowing this durable wheel to cost-effectively outlast all other grinding wheels in this category. Free of materials such as iron, sulfur and chlorine, XCAVATOR is virtually guaranteed not to contaminate surfaces such as stainless steel.



The XCAVATOR ultra high removal grinding wheel is available starting March 2014.



About Walter Surface Technologies

Walter Surface Technologies provides innovative solutions for the global metal working industry. From high performance abrasives, power tools and tooling to industrial parts washing systems, cleaners, degreasers and lubricants Walter focuses on helping its customers work better. Founded in 1952, the company is established in 7 countries throughout North America, South America and Europe. International headquarters is in Montreal and US headquarters is located in Windsor, Connecticut. Key certification and awards include ISO 9001: 2008, Wall Street Journal Award; Deutscher Material Preiz; American Eagle Award; CleanTech Cleaning Technology Award.



For additional information:  www.walter.com



Press Office

Walter Surface Technologies International

Dumas Bergen Public Relations

Jean-Carl Bergen ǀ 514-866-9816

jcbergen@videotron.ca

More from Thermal & Heating Equipment