Grinding Wheel features 1/4 in. thickness.
Press Release Summary: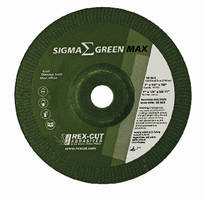 Made from bonded resin with combination of grains, Sigma Green Max offers fast stock removal and produces approximately 100 RA finish while achieving physical balance, eliminating chatter and minimizing stress on operators. Wheel is suitable for use on metals such as stainless steel, mild steel, hard face, titanium, alloys, and aluminum. Sigma Green Max does not discolor or warp stainless steel, maintains cool temperature while grinding, and will not load up on aluminum.
---
Original Press Release:

Rex-Cut Announces Its Most Balanced Grinding Wheel, Sigma Green Max



Highly Successful Sigma Green Wheel Expanding to Quarter Inch Thickness for Added Durability



FALL RIVER, MA —Leading manufacturer of abrasive and finishing products for metalworking applications, Rex-Cut Abrasives, announced today the launch of a new quarter inch thick grinding wheel called Sigma Green Max. The newest addition to the highly successful Sigma Green family of grinding wheels, Sigma Green Max reaches a sought-after performance balance of fast stock removal, great finish, and long life for fabrication applications. The Sigma Green Max wheel is produced from bonded resin with a unique combination of grains that enable it to grind extremely fast compared to other products without sacrificing finish.



The Sigma Green Max wheel features high material removal rates, yet leaves behind finishes that are much less rough than competing wheels with similar removal capabilities. This new wheel also achieves physical balance, eliminating chatter and reducing stress on operators, in turn diminishing their susceptibility to repetitive motion and vibration disorders. Proper balance has long been the core of the Sigma Green line's popularity; the Sigma Green Max continues this benefit, but with even longer life.



"Sigma Green Max achieves new levels in balance, both in terms of the attributes this line brings to the table and the range of applications it is well suited for," said Bob Costa, Vice President of Rex-Cut. "Operators looking for a wheel that cuts fast, run smooth, produces approximately a 100 RA finish, and lasts a long time will discover that Sigma Green Max delivers in all these areas without compromise."



In high-demand industries such as foundries, tank fabrication, shipbuilding, and power utilities, the balanced performance of the Sigma Green Max wheel makes a measurable difference in creating a streamlined metal removal process with better, less destructive, finishes and reduced wear on operators. The development of the thicker quarter inch wheel pushes the signature performance and durability of the Sigma Green name even further.



Suitable for use on metals such as stainless steel, mild steel, hard face, titanium, alloys and aluminum, the Sigma Green Max grinding wheel is expected to serve a wide diversity of industries. No matter the application, Sigma Green Max users will enjoy a wheel that does not discolor or warp stainless steel, maintains a cool temperature while grinding, and won't load up on aluminum.



"Whether you're talking about the physical balance of the wheel itself that protects operator health and safety, or the perfect balance of its performance that protects the efficiency of fabrication operations, this is simply a better wheel," said Costa. "Now with even more resiliency built into this thicker wheel, we believe it's a product that will resonate strongly with our customers."



About Rex-Cut

Rex-Cut Abrasives provides the Metalworking industry with high performance, non-woven cotton fiber and other premium abrasive products, offering time saving solutions to a worldwide customer network. The company is the oldest and primary manufacturer of cotton fiber abrasive grinding and finishing products in the world. Rex-Cut products are specialized for use on Stainless Steel, Aluminum, Mild Steel, and Exotic Metals. A 100% employee-owned organization, Rex-Cut offers many other specialty products for use on a variety of grinding, deburring, blending, and finishing applications.



For more information, please contact:

Kate Reilly

508-678-1985 x156

kater@rexcut.com



More from Architectural & Civil Engineering Products