Grinding System suits extreme wastewater applications.
Press Release Summary: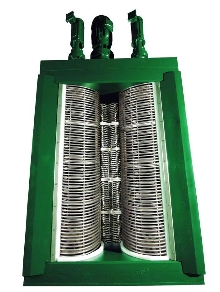 Combining rotating drum screens and Muffin Monster® grinder, Channel Monster® XD grinds difficult solids to manageable particle size, protecting downstream equipment and preventing pump blockages. Models with stack height greater than 32 in. feature 40000 Macho Monster grinder technology, with 2½ in. hex drive shafts and 7½ in. diameter cutters. Powered by 5, 10, or 15 hp motor, Channel Monster handles flows greater than 10 mgd.
---
Original Press Release:

New Channel Monster® XD - Extreme Duty Grinder for Extreme Wastewater Applications


COSTA MESA, CA, August 2005 - The design evolution of the latest version of the Channel Monster® grinding and screening system has resulted in a product ideally suited for extreme heavy loading applications such as large wastewater pump stations. JWC is proud to offer a large selection of pump station grinders, well suited for the smallest applications, using our Channel Monster® CMD-1205, all the way up to the largest using the new Channel Monster® Extreme Duty.

The system, which combines rotating drum screens and a Muffin Monster® grinder, accommodates high flow rates while grinding difficult solids to manageable particle size in order to provide protection for downstream equipment and prevent pump blockage. The extreme duty design gives the Channel Monster® XD larger cutters, shafts and seal assemblies that are beneficial in dealing with the heavier solids encountered in today's high volume waste streams.

Models greater in stack height than 32" (812mm) feature 40000 Macho Monster grinder technology, with larger 2½" (63mm) hex drive shafts and 7½" (190mm) diameter cutters. The stainless steel coil drums increase to a ½" (12mm) diameter rod.

The mechanical seals are designed with a hex drive feature for extra durability and strength. A new multi-drive option allows the drums to be driven directly by dedicated motors, precluding use of a gear train. A PLC controlled automatic reversal sequence protects the system and allows cutters to clear blockages independently of drum rotation.

The new Channel Monster® is designed to handle flows greater than 10 MGD (438 l/s) while maintaining a low head loss and it is powered by 5 (3.7kW), 10 (7.4kW) or 15 (11.1kW) HP motor.

The Channel Monster® XD was created to last well beyond standard machinery tolerance levels, and to perform for years in extreme conditions. It is an excellent choice for applications such as: pump stations; channels with combined flows (municipal and storm water); wall-mounted in wet wells; prison sewage systems; and industrial waste channels.

The new Channel Monster® XD will be exhibited at the famous WEFTEC 05 trade show, in Washington DC, booth no: 9021.

Distribution
Advanced sewage treatment equipment is of vital and growing importance to the world. JWC Environmental is a leading manufacturer of equipment for wastewater treatment, solids reduction, solids removal and processing. The Monster family of products is legendary for quality and reliability - including the Muffin Monster® and Channel Monster® sewage grinder, Auger Monster® screen, Screenings Washer Monster® and Monster Separation System(TM) incorporating a fine screen or band screen with superior screenings conditioning. Our superior technology provides solutions for the most demanding applications for sludge grinders, shredders, screens, washer compactors and septage receiving stations.

JWC distributes its products through a global network of independent representatives and distributors. In addition, JWC provides extensive sales and service support through regional and international sales offices and service centers. Founded in 1973, JWC Environmental and its worldwide family of employees are committed to providing customers leading edge products, services and value. When it comes to the most demanding wastewater treatment challenges - you can trust Monster quality.
For more information contact Fritz Egger at jwce@jwce.com, JWC Environmental, 290 Paularino Avenue, Costa Mesa, CA 92626, voice 800-331-2277, fax 949 833-8858, or visit them online at: www.jwce.com.

More from Software