Grinding Centers allow multi-process machining.
Press Release Summary: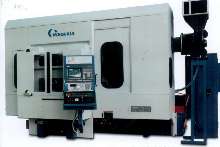 MGC-Special grinding centers provide horizontal, vertical, and inclined spindle orientations to enable face, bore and diameter grinding, as well as turning, milling, boring and drilling. Equipped with hydrostatic rotary NC table, machine provides index accuracy of ± 1 arc sec and variable table speed up to 80 RPM. X-axis travels range from 1300-3300 mm, 3 independent Y-axis spindle heads travel up to 1050 mm, and Z-axis travels are up to 220 mm.
---
Original Press Release:

MGC-Special Offers Flexible Grinding - And More


MIAMISBURG, OH - United Grinding Technologies, Inc. (UGT) announces the introduction of a new addition to its Magerle line of high-performance grinding centers, the MGC-Special.

According to Chris Stine, vice president, "renowned Magerle modular machine design facilitates quick setup and changeover, while state-of-the-art digital control and drive systems and user-friendly programming make the new MGC-Special a remarkably flexible solution to a wide variety of large, complex parts including cylindrical parts with multiple features."

Horizontal, vertical and inclined spindle orientations provide maximum flexibility to address a broad range of multi-process machining applications, including face, bore and diameter grinding, as well as turning, milling, boring and drilling.

Diamond roll dressing and automated tool changing - plus in-process/post-process measurement and control - deliver superior productivity, untended processing of long runs of single parts or part families, reduced non-grinding time, and maximum machine/operator utilization.

"Magerle has long been recognized as a leading provider of surface and profile grinding solutions," Stine says. "With the introduction of rotary and CNC-axis table drives and non-horizontal spindles, we've expanded the capability and flexibility of the traditional MGC machine. We can grind not only faces but also bores and diameters. The inherent stiff and rigid design of the Magerle allows for the easy addition of turning, boring and drilling operations. And because multiple processes are now done in a single grinding center with a single compact footprint, users can conserve valuable plant floor space."

MCG-Special overview

The MGC-Special is equipped with a precision hydrostatic rotary NC table, with a state-of-the-art brushless ring torque motor drive with Heidenhain direct measuring scales, allowing an index accuracy of ± 1 arc sec and a variable table speed of up to 80 RPM. A table diameter to 2500 mm tackles loads up to 10 tons.

Depending on the machine size and configuration, X-axis travels range from 1300 mm to 3300 mm. Three independent Y-axis spindle heads travel up to 1050 mm. Z-axis travels are up to 220 mm.
Grinding spindle orientation options include horizontal, vertical and inclined variations. Typical spindle configurations: one vertical and one horizontal, or two
vertical plus one horizontal. A three-phase 30 kW water-cooled, belt-driven, servo driven horizontal spindle handles surface grinding and automatically inclines in 1° increments up to ± 30° for flat taper grinding. A 15 kW direct-drive water-cooled vertical spindle addresses ID/OD grinding and automatically inclines in 10 steps up to ± 30° for steep taper grinding. Spindle nose is HSK 63. The 30 kW water-cooled, belt-driven vertical spindle provides grinding, boring, turning, milling and drilling.

Spindle nose is HSK 100. Spindle speeds range from 6000 RPM to 8000 RPM. The MGC-Special has an automatic tool changer with 16-tool magazine, including a measuring probe on the HSK 63 spindle nose to measure all machined surfaces. A separate tool probing system is located at the right table side for detection of actual cutting edges. Measurement data are automatically fed to the CNC machine control for verification and process control and monitoring.

The MGC-Special features state-of-the-art Fanuc 16i or Siemens Sinumerik 840D digital controls. Machine operation, setup, changeover, dressing and programming of even complex parts are easily accomplished through the operator-friendly control.

The panel swivels to suit all functional and ergonomic requirements. An important feature of the MGC series are its guide ways. Magerle developed hydrostatic wrap-around guide ways are 100 per cent wear-free and offer, in combination with integrated measuring systems, high rigidity and load capacity,
optimum smoothness and vibration dampening and maximum precision and process reliability. The modular machine components in multiple thermal stabilized sandwich construction and controlled hydrostatic return oil flow provide proper temperature distribution to guarantee static, dynamic and thermal stability.

Part of an important trend
"The MGC-Special represents part of a significant technological trend toward advanced multi-tasking machines," says Stine. "One of the primary advantages of these hybrid machines is the ability to dramatically reduce work-in-process which, if machining large or complex pieces, is a major concern. In these cases, the ability to shorten processing time and shrink inventories becomes a significant competitive advantage. Further, automatic tool changing of milling, turning, drilling and boring tools, as well as grinding wheels, is unusual on a grinding machine and drives WIP down and productivity up."

Founded in 1941 in Uster, Switzerland, Magerle grinding systems are today supported by an expert team of grinding specialists and technicians drawing on hundreds of machine installations and a worldwide support and service network.

United Grinding Technologies Inc., the North American arm of the Korber-Schleifring Group and supplier of such venerable nameplates as Blohm, Ewag, Jung, Magerle, Studer, Studer Mikrosa and Studer Schaudt, is a global leader in grinding technology and has built a reputation for industry-leading innovation and
unparalleled service and support.

For more information, contact United Grinding Technologies, Inc.; 510 Earl Blvd., Miamisburg, OH, 45342. Tel: 937/847-1222. Fax: 937/859-1115. www.grinding.com.

More from HVAC