Grinding Center offers 500 x 250 mm grinding range.
Press Release Summary: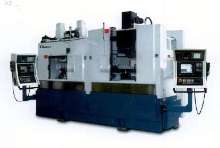 Magerle Modular System, Model MMS, features hydrostatic wrap-around guide ways that are 100% wear-free. Movements of 3 main axes are accomplished by machine table, allowing use of various grinding heads on same machine base. Powered by 75 kW ac servo motor, direct-drive grinding spindle offers speeds from 6,000-8,000 rpm. Machine accommodates max tool dimensions of 300 x 60 x 76.2 mm, and is offered with Fanuc 16i or Siemens Sinumerik 840D digital controls.
---
Original Press Release:

MMS Provides Flexible Grinding, Automation Potential


MIAMISBURG, OH - United Grinding Technologies, Inc. (UGT) announces the introduction of a new addition to its Magerle line of high-performance grinding centers, the MMS (Magerle Modular System).

According to Chris Stine, vice president, "renowned Magerle modular machine design facilitates quick setup and changeover, while state-of-the-art digital control and drive systems and user-friendly programming make the new MMS a remarkably flexible solution to a wide variety of complex parts."

MMS overview
The new MMS is the smallest in the Magerle machine line, and offers a great number of various configurations, depending on the application. The compact and symmetrical gantry design, together with ball screws and wide spaced linear roller bearings for all axes, ensures high static, dynamic and thermal stability.

An important feature of the MMS are its guide ways. Magerle developed hydrostatic wrap-around guide ways are 100 per cent wear-free and offer, in combination with integrated measuring systems, high rigidity and load capacity, optimum smoothness and vibration dampening and maximum precision and process reliability. The modular machine components in multiple thermal stabilized sandwich construction and controlled hydrostatic return oil flow provide proper temperature distribution to guarantee static, dynamic ajid thermal stability.

The movements of the 3 main axes are accomplished by the machine table. This allows the use of various grinding heads on the same machine base - whether horizontal, vertical or inclinable spindles. Loading parts on the machine can be done manually or automatically from all four sides. Therefore, integration of several machines into a grinding cell can be easily achieved.

Grinding range is 500 mm x 250 mm. X-axis travel is 510 mm with rapid traverse rates of 10 mm/min to 20,000 mm/min. Y-axis spindle travel is 270 mm with rapid traverse rates of 1 mm/min to 10,000 mm/min. Z-axis travel is 225 mm, with rapid traverse rates of 1 mm/min to 10,000 mm/min.

Direct drive grinding spindle is powered by up to a 75 kW AC servo motor, and spindles speeds range from 6000 RPM to 8000 RPM. Grinding wheel peripheral speed is 63 m/sec, maximum. Grinding wheel size is 400 mm x 180 mm x 127 mm or 500 mm x 180 mm x 203.2 mm.

Tool changing
The latest variation of the MMS includes a stationary vertical motor spindle with integrated tool changer. Maximum tool dimensions are 300 mm x 60 mm x 76.2 mm, and the number of tools is 20 for wheel diameters smaller than 130 mm, and five for wheel diameters up to 300 mm. Maximum tool weight: 20 kg. Tool change of three seconds. A reliable HSK-A 100 spindle nose offers rigidity and precision needed for close tolerance parts with high surface finish requirements. Through the spindle coolant at up to 80 bar facilitates milling and drilling operations aside from grinding.

Control
The MMS features state-of-the-art Fanuc 16i or Siemens Sinumerik 840D digital controls. Machine operation, setup, changeover, dressing and programming of even complex parts are easily accomplished through the operator-friendly control. The panel swivels to suit all functional and ergonomic requirements.

This new MMS increases the variety of applications to a great extend by increasing the number of operations that can be accomplished without operator interference.

Typical applications include turbine vanes and blades, gear shifting shafts, rocker arms, small turbine and compressor blades, machining both sides of fir tree and root shank faces, shroud and z-notch profiles - both sides and slots if required.

Options include two verticle spindles, inclined spindles, indexing heads and the integration of several machines with automated part handling systems.

Founded in 1941 in Uster, Switzerland, Magerle grinding systems are today supported by an expert team of grinding specialists and technicians drawing on hundreds of machine installations and a worldwide support and service network.

United Grinding Technologies Inc., the North American arm of the Korber-Schleifring Group and supplier of such venerable nameplates as Blohm, Ewag, Jung, Magerle, Studer, Studer Mikrosa and Studer Schaudt, is a global leader in grinding technology and has built a reputation for industry-leading innovation and unparalleled service and support.

More from Chemicals & Gases