Grinders and Groovers have self-propelled design.
Press Release Summary: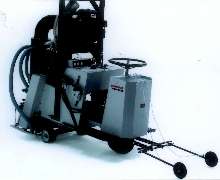 Pavement groovers and grinders have 12 in. blade capacity and ¾ in. max cutting depth. Model PG 6522 is equipped with 65 hp Wisconsin engine and 21¾ in. cutting head. Powered by either 35 hp gas or 30 hp electric motor, PG 3514 utilizes 14 in. wide cutting head and front wheels that allow machine to follow contour of pavement. With cutting head width of 8 in. and 16 hp Briggs Vanguard engine, PG 1608 offers adjustable grooving guide.
---
Original Press Release:

Dimas Introduces Complete Family of Pavement Grinders and Groovers


OLATHE, Kan. - Dimas introduces a new line of pavement groovers and grinders featuring versatility and power in a compact design. Each offering a 12-inch blade capacity, and a ¾-inch maximum cutting depth combined with a self-propelled design, Dimas grinding and grooving machines offer the solution for a wide variety of grooving jobs including airport runways, highways, ramps, bridges, industrial floors, loading docks, pool decks, cattle pens and parking lots.

The Dimas PG 6522 grooving, texturing, and grinding machine offers an economical yet powerful grooving solution. Equipped with a 65-horsepower Wisconsin engine and a 21 ¾-inch cutting head, the PG 6522 provides ample power and productivity for tackling the grooving applications typically reserved for larger machines. An optional Dri-Trac(TM) slurry removal system enhances job site safety by quickly and efficiently removing the slurry byproduct. An ergonomically designed operator station provides easy access for all gauges, levers and controls.

In addition, an electro-hydraulic raise and lower control along with retractable groove guides ensure precise performance. A variable speed control in both forward and reverse offers precision control for both grooving and travel between jobs, ensuring maximum efficiency.

Powered by a 35-horsepower Wisconsin gas, or optional 30-horsepower Baldor electric motor, the PG 3514 combines power with a 14-inch wide cutting head to ensure high productivity. The unique design of the front wheels allows the machine to follow the contour of the pavement, providing a smoother surface and better transitions during grooving and grinding applications. An electro-hydraulic blade control feature enables instant and precise blade adjustments for maximum depth control up to ¾ inch. Incorporating a standard hydrostatic drive and Quadco speed control, the PG 3514 provides variable speed control for grinding, grooving and maneuvering. With an adaptable head, and an operating weight of 1,700 pounds, this unit offers the power and versatility to tackle a wide variety of applications. Versatility is further enhanced by adding an optional, easy-to-install bump grinding extension kit, which offers the flexibility to perform profile grinding.

Featuring a cutting head width of 8 inches and a 16-horsepower Briggs Vanguard engine, the PG 1608 grooving and texturing machine is the most compact in the Dimas family. The ideal solution for confined area applications such as cattle pen grooving, the PG 1608 is large enough to be efficient, yet small enough to groove hard-to-access areas. Featuring an adjustable grooving guide for either right- or left-side grooving and a standard blade depth control, the unit offers precise control in every application.

Dimas, a division of the Electrolux Group, develops and manufactures equipment and blades for the heavy construction market - offering solutions for wall and road sawing, drilling, grinding and grooving. For more information about Dimas Pavement Grinders and Groovers, please contact Dimas, 17400 West 119 Street, Olathe, KS 66061, call 800-845-1312 or 913-928-1000, fax 800-257-9284 or visit the Web site at www.dimas.com.

More from Food Processing & Preparation