Grinder/Screener handles heavy institutional waste.
Press Release Summary: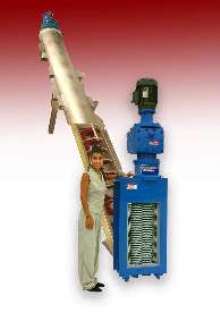 Provided with up to 15 hp motor and drive, SPIRALIFT® SL 19 combines TASKMASTER® shredder and oversized channel auger screen for handling solids such as prison garb, bedding, sheets, and heavy knotted items that choke and stall lighter duty systems. Auger is powered by shaft-mounted reducer with 2 hp motor. Screens are available with 3-12 mm perforations. As effluent is discharged, shredder reduces solids to fine size for optimized washing and conveying.
---
Original Press Release:

SPIRALIFT® SL 19-Provides Fine Screening of Prison and Institutional Waste


The SPIRALIFT® SL 19 provides grinding and screening for heavy institutional wastewater channel applications where light duty units are not suitable. The unit combines a powerful industrial-duty TASKMASTER® shredder and a high capacity oversized channel auger screen for effectively handling such tough solids as prison garb, bedding, sheets heavy knotted items and more that choke and stall lighter duty systems.

As institutional effluent is discharged, the SPIRALIFT's shredder reduces the solids to a fine size for optimized washing and conveying. A SPIRALIFT shaftless auger screw removes the solids from an oversized semicircular screen basket and conveys them up a transport tube while compacting them. Solids are discharged at a convenient elevation into a bagger, container or conveyor. The wastewater flows downstream, free of solids.

The SL 19 is provided with up to 15 HP motor and drive depending on the application required. The auger is powered by a shaft-mounted reducer with a 2 HP motor. Screens are available with 3mm-12mm perforations.

For more information, contact Franklin Miller, Inc., 60 Okner Parkway, Livingston, NJ, 07039
973-535-9200, Fax: 973-535-6269, email:info@franklinmiller.com Website http://www. franklinmiller.com

More from Communication Systems & Equipment