Grinder processes conductive metals.
Press Release Summary: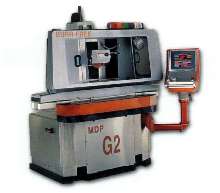 Molecular Decomposition Process Grinder removes metal by decomposing it with electric current, electrolytes, and abrasives. PCL-based system uses fuzzy logic and neural network technology. Offering max grinding depth of 4 cu in./min, machine features 8 x 18 in. table, 590/118/118 ipm X/Y/Z rapids, 0.0002 in. positioning accuracy, and 5 hp spindle motor that peaks at 3,600 rpm. Resin-bonded wheels come in models as thin as .020 in. and flatness within .0005 in.
---
Original Press Release:

New MDP Grinder Can Grind All Kinds of Conductive Metals


Surface grinding without burns, burrs, distortion or pollution is now possible with Chevalier's new Molecular Decomposition Process (MDP) grinder. The grinder removes metal by 'decomposing' it with a combination of electric current, special electrolytes and abrasives. As the electric current flows through the electrolyte between the positively charged workpiece and the negatively charged abrasive wheel, the resulting electrochemical oxidation produces a soft hydroxide film on the workpiece surface. The soft surface of the alloy is then "wiped away" by the abrasives in the wheel, exposing more surface material to allow the process to start over. This entire process is now fully controllable, thanks to the grinder's Molecular Process Control which is a PCL-based system that uses fuzzy logic and neural network technology for closed-loop process monitoring. The control provides real-time feedbacks, allowing the system to react on-time to any changes in the pre-sets while the machine is in operation. Manual changes can also be made anytime during the grinding cycle. This full control of the electrical, chemical and abrasive processes makes the machine powerful enough to grind any conductive material, precise enough to cut any shape within 0.0002" and gentle enough to cut thin-walled workpieces without damage or distortion. Scrap is substantially reduced due to more precise electrolyte conductivity and superior nanosecond response power supply. A 60% reduction in power consumption is also achieved because the grinder automatically modulates the power output, eliminating power usage during non-machining periods. Toxic waste generation is reduced to near-zero by the grinder's Electrolyte Management System which combines a patented filtration system with a special electrolyte to convert contaminated liquid waste into non-toxic, semi-dry form. Since chips and debris are constantly filtered and disposed, electrolyte conductivity is always stable and electrolyte life lasts 6 months or more. The grinding wheels are specially formulated with a copper catalyst to allow enhanced conductivity control of each wheel for closer tolerances. These resin-bonded wheels come in models as thin as .020" and flatness within .0005" and are specially useful when machining delicate workpieces that require burr-free cutting or slotting. Wheels are available in varying degrees of hardness, shapes, bonds and conductivity levels, depending on the customer's requirements. The 3,800lb. grinder features 8" x 18" table, 19' table travel, 590/118/118ipm XYZ rapids, 0.0002" positioning accuracy, 5HP spindle motor that peaks at 3600rpm, 86" x 102" floor space and automatic lubrication system. The machine can grind to a maximum depth of 4 cu.in. per minute. Options include 1,000 amp solid state power pack, Digital Readout, magnetic chuck/chuck control, variable speed spindle and mist collector.

Workpieces for test cuts can be mailed to:
Grinding Applications Division
Chevalier Machinery, Inc
9925 Tabor Place
Santa Fe Springs, CA 90670
Tel 562/903-1929
Fax 562/903-3959

More from Material Processing