Grinder performs high-speed material removal.
Press Release Summary: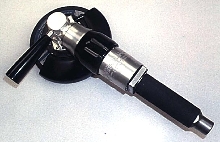 Pneumatic, right-angle TOP CAT® Model 520RA grinder incorporates 1,500 W, 2 hp motor rated for speeds between 4,000 and 8,000 rpm. Available in Type 27/28 configurations with 7 or 9 in. grinding wheel, it can serve as Type 01 cutoff tool with available 10 in. cutoff wheel guard or as sander with 5, 7, or 9 in. sanding pad. It includes spiral-bevel gears, throttle-type safety lever, indexable guard, built-in handle isolator, and push-button spindle lock.
---
Original Press Release:
T.C. Service Introduces new TOP CAT® Model 520RA Right-Angle Grinder

WILLOUGHBY, OHIO - July 2002 - T. C. Service Company has recently introduced the TOP CAT® Model 520RA right-angle grinder. The American-made, pneumatic tool is designed for grinding, sanding and high-speed material removal, as well as for cutting in construction applications.

With its 1,500-watt, 2-horsepower motor and rated speeds of 4,000 to 8,000 RPM, the new grinder has plenty of power to perform heavy-duty, industrial grinding. Yet, it runs extremely quiet with low vibration. Early in-house testing has shown that noise and vibrations levels are below recommended ISO exposure limits.

The 520RA is available in Type 27/Type 28 configurations with a 7" (180 mm) or 9" (230 mm) grinding wheel. It is also a Type 01 cutoff tool with an available 10" (250 mm) cutoff wheel guard; as well as a sander with a 5" (125 mm), 7" (180 mm) or 9" (235 mm) sanding pad.

Features include spiral-bevel gears for longer tool life; small-diameter heads for better access to the work areas; a throttle-type safety lever; indexable guard; comfort handle grip; built-in handle isolator; and a push-button spindle lock for quick change-over.

Weighing just 7.7 lbs. (3.5 Kg), and with an overall length of 15" (375 mm), the 520RA is an ergonomically designed, portable, hand-held power tool. Other specifications are as follows: head height over spindle-3.9" (99 mm); working air consumption-40 cfm (18.9 L/S); air inlet size-1/2" NPT (1/2" BPT available); hose size recommendation-1/2" (13 mm); and arbor size-5/8" x 11".

Standard equipment for the 7" and 9" grinder includes the tool itself; a choice of wheel guard and sanding pad; and instruction manual. The 10" cutoff tool includes the tool, flanges, a wrench and an instruction manual. Other sanding pads and depressed center wheel kits are available as options.

T. C. Service Co. is a manufacturer of pneumatic hand tools such as grinders (horizontal, vertical, right-angle and die), scalers, chipping hammers, rammers and air saws for the foundry, casting, welding, metal fabricating and construction industries. T. C. Service products are marketed and distributed in the U. S. and internationally.

For more information on the Model 520RA, please contact: T. C. Service Co., 38285 Pelton Road, Willoughby, OH 44094. Phone: (800) 321-6876. Fax: (877) 800-3589. www.tcservice.com
E-mail: sales@tcservice.com

Please send inquiries to: Donald Kuhl, T. C. Service Co., 38285 Pelton Road, Willoughby, OH 44094

More from Construction Equipment and Supplies