Grinder is programmable to 10 millionths accuracy.
Press Release Summary: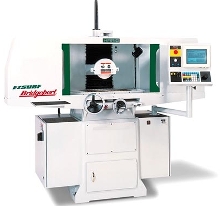 EZ-Surf XA Surface Grinder combines Newall Microsyn digital linear encoders with software specifically designed to interface with scales. It permits machinist to operate in manual, semi-automatic or fully automatic modes. EZ-Surf comes with 7 in. wheel with 8 in. wheel capacity, integral 2-diamond wheel dress, 3 in. diameter spindle, and 1.5 HP continuous-duty spindle motor. It provides 100 ipm rapid transverse for vertical y-axis and cross feed z-axis.
---
Original Press Release:
Bridgeport's New EZ-Surf Grinder Programmable To 10 Millionths Accuracy Is The Most Precise In Its Class

(Bridgeport, CT - January 2002) "We are America's only domestically manufactured surface grinder, and now we are introducing a model which is the most accurate in the world, within its class" boasted Harig Product Manager Robert Beattie, as he announced the new Bridgeport/Harig EZ-Surf XA. The high precision capabilities of the new EZ-Surf will be demonstrated at the Bridgeport WESTEC booth #3201.

The key is the addition of Newall Microsyn Digital Linear Encoders combined with the Bridgeport/Harig (A Goldman Industrial Group Company) development of new software specifically designed to interface with the scales. A new 5 place decimal display enhances the EZSURF XA resolution to 10 millionths with the resultant accuracy in the machine. It is repeatable within '1 Micron'. "This development makes the XA a very inexpensive alternative in the high precision arena." Adds Beattie.

The EZ-Surf XA permits the machinist to operate in the manual, semi-automatic of fully automatic modes. This flexible and now very high precision machine is built to the rugged standards incorporated into all Bridgeport machines. This includes a cast iron base with three point leveling. An automatic continuously circulating lubrication system, hand scraped ways and ground internal parts add to the precision operation and long life. The two-axis PC control is at eye level for increased operator accessibility.

The EZ Surf comes with a 7" wheel with an 8" wheel capacity and integral, 2-diamond wheel dress with wheel dress compensation. There's 100 ipm rapid transverse for the vertical y-axis and cross feed z-axis. The hydraulic, longitudinal table feed with on/off control, soft hydraulic regulating valve is ideally suited for speeds from 3 fpm to 70 fpm standard. The operator has the choice of standard or slow (.250 ipm to 30 fpm) longitudinal feed. The 3" diameter spindle with class 7 pre-loaded ball bearings and 1.5 HP continuous duty spindle motor make the EZ-Surf a reliable machine for long life.

"The manufacturing industry continuously presses for non-compromising precision in all sectors. With the EZ-Surf XA, we feel we are able to match precision with anybody for the
applications where we have been producing quality parts for over 75 years."

Bridgeport Machines is a leading manufacturer of machine tools for milling, turning and grinding. Bridgeport Machines operates globally with manufacturing facilities in the United States, United Kingdom and Genrnany, and is part of the Goldman Industrial Group of Companies, headquartered in Boston Massachusetts. The Goldman Industrial Group is comprised of several leading machine tool builders with an installed base of more than 400,000 highly engineered machines throughout the world.
More from Communication Systems & Equipment