Grinder includes built-in tramp trap.
Press Release Summary: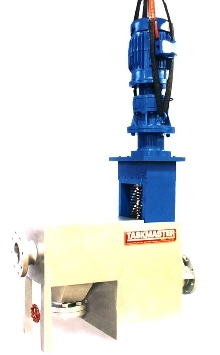 TASKMASTER(R) Model TT grinder employs 2 counter-rotating banks of high shear intermeshing cutters that grind and shred solids to fine size. Unit has built-in, oversized, 2-stage tramp trap that lets heavy tramp solids drop out before reaching grinder cutters. Valve is provided for access and removal of collected tramp material. Inlet and outlet flanges are inline for installation and retrofitting into existing pipelines.
---
Original Press Release:

Taskmaster(R) TT Grinder


Features a built-in tramp trap

The TASKMASTER Model TT grinds tough waste solids while catching tramp materials in its specially designed trap. The TASKMASTER TT is specifically designed for such tough applications as septage receiving, lagoon pumps, sludge, liquid waste processing, mine water pumping and other installations that include an uncontrolled feed of rocks, gravel, metal, bricks and other un-shreddable solids.

The inline TASKMASTER TT features a built-in oversized two stage tramp trap designed to let heavy tramp solids drop out before reaching the grinder cutters. This unit's grinding unit has a convenient "drop-in" design that facilitates easy removal of the grinder unit from it's pipe housing for maintenance. A valve is provided for quick access and removal of the collected tramp material. The unit's inlet and outlet flanges are inline for easy installation and retrofitting into existing pipelines.

The TASKMASTER employs two counter-rotating banks of high shear intermeshing cutters that intensively grind and shred solids to a fine size easily handled by pumps and other downstream equipment. Unlike any other grinder, the TASKMASTER is built with cutter cartridge technology. With this exclusive design, each six cutter and six spacer disks found on typical grinders is replaced by a rugged one-piece cartridge element. This cuts individual cutter parts by a factor of 12:1. The result is a stronger, easier to maintain grinder design. Additionally, the burdensome requirement of regular stack re-tightening, required on competing models, is eliminated altogether

More from Agricultural & Farming Products