Grimanesa Amorós Studio Chooses EIC Solutions Air Conditioned Enclosures for Art Installation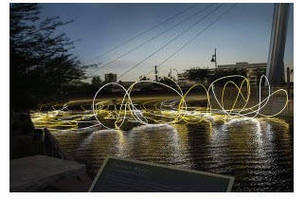 Grimanesa Amorós was born in Lima, Peru and lives and works in New York City. She is an interdisciplinary artist with diverse interests in the fields of social history, scientific research and critical theory, which have greatly influenced her work. Her art incorporates elements from sculpture, video, lighting, and technology to create site-specific installations to engage architecture and create community. Recently, she was commissioned by Scottsdale Cultural Council, Scottsdale Public Arts, and the City of Scottsdale Arizona to provide a light installation, Golden Waters, located at Soleri Bridge.  The site-specific installation used vertical and horizontal lines aimed to express a metaphor that the dynamic balance between urban and natural forces can be experienced simultaneously.



The Challenge

Grimanesa created the concept for the light installation and developed plans to implement her work of art. The final product would be an LED tubing system that would appear to rise from the canal waters below the Soleri Bridge. The art installation included programmable lighting, which incorporated a DMX signal device to send data to the DMX controllers and output the data to the appropriate LED channels. This sensitive equipment requires a controlled environment for optimal performance based on manufacturer specifications. The heat dissipation of the control console combined with ambient temperatures in Arizona reaching 117F during the summer season was a real concern. Grimanesa Amorós Studio looked to EIC Solutions sales engineer Lori Galdo to provide a solution that would house and environmentally control the equipment while meeting their size, functionality and pricing requirements.



The Solution

Golden Waters Light Sculpture was used to express a metaphor that urban and natural forces can be experienced together.



At the early stages of this design, Grimanesa Amorós Studio had not finalized all of the components required for the lighting controls that would be housed in the enclosure. EIC Solutions suggested the prepacked enclosure line because it is offered in a variety of sizes and mounting options giving the customer flexibility until the design was complete. Once all of the equipment dimensions and heat dissipation was determined, EIC Solutions recommended a Protector Series 1G363008-C-RS prepackaged air conditioned enclosure. The enclosure included the ThermoTEC 140B Series thermoelectric air conditioner and a DP-140V vertical drip pan for condensation management. This gray powder coated enclosure featured a rear subpanel to mount the DMX equipment and a ¼ turn key locking latch to secure the equipment. The rugged 400 BTU thermoelectric air conditioner is designed for harsh environments and requires little to no maintenance, which was an essential feature since the enclosure would be unattended during the exhibition. The Protector Series prepackaged products quick lead times and attractive price points enabled Grimansea Amorós and her team to meet demanding installation deadlines and budget constraints.



Benefits/Results

By utilizing EIC Solutions products, Grimanesa Amorós Studio was able to create a captivating, outdoor light sculpture installation in a harsh environment without the concern of failing lighting controls. Amorós created a piece with emphasis on its perspective of nature and landscape that viewers are drawn to. The public art installation was featured in Huffington Post, The Creators Project, Architectural Digest, Art Daily, and many others. The light sculpture extends parallel to the canal channel one hundred sixty-four feet west of the bridge, and was on display June through September 2015.



EIC Solutions, Inc., 700 Veterans Way Ste. 200, Warminster, PA 18974 USA. Phone: 215-443-5190. Fax: 215-443-9564.







More from Electronic Components & Devices