Level Sensors / Detectors / Transducers
Griffon Hoverwork's Fleet Gets Improved In-Service Reliability from Gill Capacitive Liquid Level Sensing Technology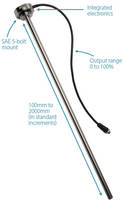 With hovercraft propellers and turbulent sea conditions generating high vibrations and unsteady conditions, the accumulation of reliable fuel level data is difficult to achieve. This was the problem faced by Griffon Hoverwork, who required a sensor that could be installed inside the hovercraft fuel tank which would provide continuous and accurate data, whilst remaining fully-functional within severe operational conditions.



Using the existing technology from the standard GSlevel range, Gill produced a high-temperature capacitive level sensor with an electronics operating temperature range of – 40°C to +125°C, to meet the high temperatures experienced under the hovercraft skirt.



The sensor is constructed from marine grade 316 stainless steel, is solid-state and has no moving parts to provide long-term durability. In order to ensure that the sensor design and construction would continue to remain seaworthy against the harsh environment requirements, a rigorous testing program was undertaken, proving environmental aspects such as thermal, humidity, vibration, ingress protection, corrosion resistance and EMC against tough EN60945 standards.



The sensor has also been designed and manufactured with an NMEA 2000 compatible CANBUS output, as opposed to the standard 0V - 5V analog output, allowing Griffon to connect the sensor with other devices as part of an integrated networking system. Offering both SAE 5-bolt and 1.25" thread mounting for easy installation, the marine sensor provides Griffon with an extremely durable sensing solution suited to the demanding application.



Using in-house design and manufacturing facilities, Gill has been able to deliver Griffon with critical monitoring of fuel levels with confidence that the accuracy and reliability is maintained during hovercraft operation.



The marine liquid level sensors have been deployed as a standard fit into the new fleet of hovercraft to ensure ultimate in-service reliability throughout the expected life of the craft.



To find out more about the Gill GS-M, and many models like it, contact Everight Position Technologies by calling 856-727-9500, or emailing info@evrtp.com. Click over to our website to see how our wide range of sensors is fitting into applications in aerospace, agriculture, and more!

More from Communication Systems & Equipment