Grid Distortion Targets suit front illuminated measuring.
Press Release Summary: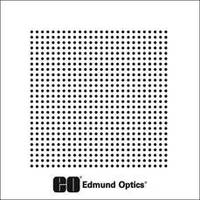 Designed to create surface that diffusely reflects light back, Diffuse Reflectance Grid Distortion Targets allow user to avoid glare across image surface. Units feature chrome pattern on substrate and produce no glare with either on- or off-axis lighting sources. They are available in 2 x 2 in. configuration with dot sizes of 0.0625, 0.15, or 0.25 mm, as well as 3 x 3 in. configuration in dot sizes of 0.125, 0.25, and 0.5 mm.
---
Original Press Release:

Edmund Optics® Diffuse Reflectance Grid Distortion Targets Ideal for Front Illuminated Measuring



January 29, 2009, Barrington, NJ. - Edmund Optics® (EO), the preferred supplier of optical components, introduces their Diffuse Reflectance Grid Distortion Targets. Designed to have similar performance to ceramic targets, the Diffuse Reflectance Grid Distortion Targets have been specifically treated to create a surface that diffusely reflects light back, allowing the user to avoid troublesome glare across the image surface. The targets feature a chrome pattern on the substrate and produce no glare, with either on- or off-axis lighting sources.

Targets easily determine amount of distortion

Diffuse Reflectance Grid Distortion Targets allow the user to quickly and easily determine the exact amount of distortion present in an image. To remove distortion from the image, the dot center can be calculated using blob analysis in measurement software, such as NI Vision Builder software, sold by Edmund Optics (stock number 56-807), and then calculated against the standard. Perfect for front illuminated measuring applications, the targets are ideally suited for use with a wide variety of lenses, ranging from wide angle to telephoto. "These Diffuse Reflectance Grid Distortion Targets are ideal tools, allowing our customers to calculate distortion so that they can perform undistorted wide angle imaging as well as test distortion on their own optical systems," added Nicholas James, Product Line Engineer, Edmund Optics.

Available in two substrate sizes and three dot frequencies

Edmund Optics' Diffuse Reflectance Grid Distortion Targets are available in two substrate sizes and three dot frequencies. Diffuse Reflectance Grid Distortion Targets are available in a 2" x 2" configuration with dot sizes of 0.0625 mm, 0.15 mm or 0.25 mm. The 3" x 3" targets are available in dot sizes of 0.125 mm, 0.25 mm and 0.5 mm. EO's Diffuse Reflectance Grid Distortion Targets are in-stock and available for immediate delivery.

About EO:

Edmund Optics® (EO) is a leading producer of optics, imaging, and photonics technology. Supporting the R&D, electronics, semiconductor, pharmaceutical, biomedical, and military markets around the globe; EO products are used in a variety of applications ranging from DNA sequencing to retinal eye scanning to high-speed factory automation. EO's state of the art manufacturing capabilities combined with its global distribution network has earned it the position of the world's largest supplier of off-the-shelf optical components. Customers can purchase items by contacting EO at 1-800-363-1992, via the catalog, or via the website at www.edmundoptics.com.

Company Contact:

Marisa Edmund

Vice President, Marketing

Edmund Optics, Inc.

101 East Gloucester Pike

Barrington, NJ 08007 U.S.A.

Phone: 1-800-363-1992

Fax: 1-856-573-6295

email: medmund@edmundoptics.com

More from Sensors, Monitors & Transducers