Latest ArmourDrive SSDs Come in New Form Factors
Press Release Summary: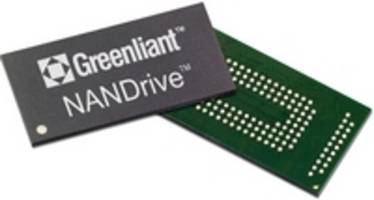 The Greenliant's NANDrive™ and ArmourDrive™ Solid State Drives are designed based on the NAND flash controllers. The NANDrives are available with 1-bit-per-cell (SLC) or 2-bits-per-cell (MLC) with eMMC, PATA and SATA interfaces. The ArmourDrives are suitable for use in embedded designs in extreme environments.
---
Original Press Release:
Greenliant to Show Latest NANDrive™ and ArmourDrive™ SSDs at Electronica 2018
SANTA CLARA, CALIF. and MUNICH, GERMANY – NOVEMBER 8, 2018 – Greenliant will showcase its newest NANDrive™ and ArmourDrive™ high-reliability solid state drive (SSD) products at electronica 2018 in Munich, Germany, November 13-16, in hall C5, booth 111.
For embedded system designers seeking durable, small form factor data storage, the company's latest 153-ball and 100-ball eMMC 5.1 NANDrive SSDs will be on display. All NANDrive SSDs are based on Greenliant's own industrial grade NAND flash controllers, and are offered in a space-saving, ball grid array (BGA) package. Customers can choose from a wide range of capacities in three different interfaces (eMMC, PATA, SATA). NANDrive products are available with 1-bit-per-cell (SLC) or 2-bits-per-cell (MLC) NAND to meet lifespan, endurance and performance requirements.
In addition to the current mSATA products, Greenliant is expanding its ArmourDrive portfolio with different form factors targeted to embedded designs used in extreme environments. Visitors will get a first look at the company's new industrial temperature, high-performance SATA 6Gb/s SSDs.
Visit Greenliant at its distribution partner, Macnica's booth 111, hall C5 or email [email protected] to schedule a meeting at the show. Technical experts will be available to discuss how Greenliant's products meet the reliability and longevity requirements for data storage in automotive, defense and aerospace, industrial, networking and communications, security and video applications.
About Greenliant
By leveraging more than 25 years of solid state storage design expertise, Greenliant is dedicated to developing durable, reliable and secure storage solutions for embedded systems and enterprise datacenters. The company is headquartered in Silicon Valley with product development centers in Santa Clara, Beijing, Shanghai, Xiamen and Hsinchu. https://www.greenliant.com.
Media Contact:
Tara Yingst
Greenliant Systems
408-200-8062