Greenerd to Highlight Custom Hydraulic Press Solutions at IMTS 2012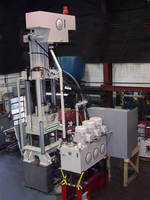 Visit Booth # N-6076 to learn more from Greenerd's hydraulic experts.

NASHUA, NH U.S.A. (June 15, 2012) - Greenerd Press & Machine Company, Inc. announced today they will be exhibiting at IMTS 2012, McCormick Place in Chicago on September 10-15, 2012. In addition to showcasing the company's extensive hydraulic press capabilities, application experts from Greenerd will be available to discuss specific user applications and press requirements at Booth # N-6076. (http://www.greenerd.com/)

With product capabilities to 40,000 tons and bed sizes exceeding 240" (6,100mm), Greenerd presses are available in a variety of styles ranging from gap frame and straight-side to die-spotting and forging presses. At their manufacturing facility in Nashua, New Hampshire, Greenerd recently completed construction of a 562 ton triple-action draw press with a 280 ton cushion and a 30 ton ram-mounted knockout. The customer for this press, a US cookware manufacturer, is using the increased productivity from this press (including its 10" touchscreen press control and bar code scanner) to bring several product lines in-house from outside contractors. For more information about this project please go to www.greenerd.com/uploads/application-pdfs/Deep%20Draw%20Press%20with%20560%20ton%20no%20header.pdf
and view the drawing example on their Applications page. Greenerd is also currently building a multiple-station "can line" for deep drawn cans.

Greenerd engineers have years of experience successfully designing presses for a broad range of manufacturing applications. They rely on the latest technologies to deliver the safest, most efficient and reliable machine capabilities.

"Greenerd's unique strength lies in the relationships we develop with our customers," said Greenerd Press & Machine Company President, Mr. Tim Dining. "We learn as much as possible about the customer's business, applications and objectives in order to design and build a press that is best suited for their needs."

About Greenerd

Founded in New England in 1883, Greenerd has designed and built thousands of high-quality custom and standard hydraulic presses since 1934. Machines include an extensive line of Hydraulic Presses in all sizes and configurations. A complete line of Arbor Presses is also available. Greenerd Presses are made to withstand the rigors of around-the-clock production and deliver many years of service.

Greenerd Presses are available as standard machines or can be designed for custom applications by expert engineers with extensive application experience. For more information, contact Mr. Tom Lavoie at Greenerd. Phone number 800-877-9110, x 251, e-mail tlavoie@greenerd.com or visit www.greenerd.com.

Related