Greenerd Builds Three Hydraulic Presses for Automotive Parts Manufacturing Facility in Mexico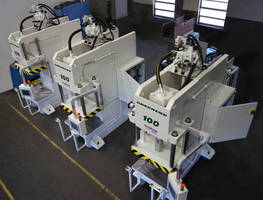 Hydraulic Presses Form, Trim and Pierce Complex 3-D Heat Shield bodies.



NASHUA, NH U.S.A. – Greenerd Press & Machine Company, Inc. (http://www.greenerd.com/) announced they recently designed and built three hydraulic presses for a global automotive parts manufacturer. The presses were installed in a new assembly line application set up in a Mexican facility.



The gap frame presses feature adjustable tonnage capability from 20 to 100 tons, a 4-post guiding system, a table dimension of 41.5" x 28.5" (1016mm x 700mm), a maximum daylight / open distance of 40.8" (1000mm) and are designed to form, trim and pierce complex three-dimensional heat shield bodies. The presses also have a unique mechanical slide lock safety feature in the event of hydraulic line failure, in addition to a floor-mounted light curtain system to ensure safe guarding.



Each press is furnished with a powerful, compact Allen-Bradley touch-panel press control for simple, user-friendly keypad entry of control functions and set-up parameters. Users can set top and bottom stop stroke positions, slow down, and digital tonnage. A dwell timer allows adjustable pressure dwells and fast set-ups can be accomplished via an up to 1,000 recipe-on-board storage feature. A closed-loop speed control adjusts the pressing speed from 20% to 100% of full speed, and diagnostic capability can also be monitored on the screen.



"Our engineers work with customers to understand their application and objectives to design the press that is best suited to meeting their requirements utilizing our vast hydraulic expertise," said Greenerd Press & Machine Company President and CEO, Mr. Tim Dining. "We are always providing new, reliable solutions that measurably increase our customer's productivity and capacity."



About Greenerd

Founded in New England in 1883, Greenerd has designed and built thousands of high-quality custom and standard hydraulic presses since 1934. Machines include an extensive line of Hydraulic Presses in all sizes and configurations. A complete line of Arbor Presses is also available. Greenerd Presses are made to withstand the rigors of around-the-clock production and deliver many years of service.



Greenerd engineers have years of experience successfully designing presses for a broad range of manufacturing applications. They rely on the latest technologies to deliver the safest, most efficient and reliable machine capabilities. View the Greenerd Press Capabilities Video at http://www.youtube.com/watch?v=bJ98RsTIQn0 to learn more about Greenerd's solutions.



Greenerd Presses are available as standard machines or can be designed for custom applications by expert engineers with extensive application experience. For more information, contact Mr. Tom Lavoie at Greenerd. Phone number 800-877-9110, x 251, e-mail tlavoie@greenerd.com  or visit www.greenerd.com.



Related