Greenerd Builds New Three Station Tool Hydraulic Press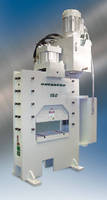 New design offers increased press capacity and capability for forming, trimming and coining.



NASHUA, NH U.S.A.  – Greenerd Press & Machine Company Inc. recently built a new small footprint 150-ton gib-guided hydraulic press designed for a U.S. tool manufacturing application. The robot-fed press offers increased capacity and capability while providing shorter lead times for forming, trimming and coining a heated part in a three station tool. (http://www.greenerd.com/)



The new press features a uni-frame design that consolidates three operations into one progressive station, providing shorter lead times. The frame is modified at the bottom to allow for a scrap conveyor to remove trim scraps through the bed plate onto the conveyor.



A six point gib-guided press slide offers guiding stability with excellent tolerance for off-center loading. Long, greaseless graphite plugged bearing bronze wear strips ensure maximum slide contact and excellent wear resistance.



The press provides fast cycle times which limit the amount of heat buildup from the parts in the tooling and keep the heat from migrating into the press frame as well. Greenerd's state-of-the-art press control allows programming for multiple hits using both pressure and distance reversal, providing the flexibility to select the best method for each job.



"Greenerd engineers have years of experience successfully designing presses for a broad range of manufacturing applications," stated Mr. Tim Dining, President of Greenerd Press & Machine Company Inc. "This press is a great example of how they utilize the latest technologies to deliver the most efficient and reliable machine capabilities."



About Greenerd

Founded in New England in 1883, Greenerd has designed and built thousands of high-quality custom and standard hydraulic presses since 1934. Machines include an extensive line of Hydraulic Presses in all sizes and configurations. A complete line of Arbor Presses is also available. Greenerd Presses are made to withstand the rigors of around-the-clock production and deliver many years of service.



Greenerd Presses are available as standard machines or can be designed for custom applications by expert engineers with extensive application experience. For more information, contact Mr. Tom Lavoie at Greenerd. Phone number 800-877-9110, x 251, e-mail tlavoie@greenerd.com or visit www.greenerd.com .

Related