Greenerd Builds New Hydraulic Coining Press for Global Parts Network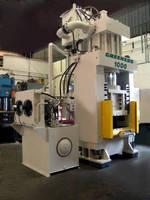 Press Enhances Part Quality and Reduces Cycle Time.



NASHUA, NH U.S.A. – Greenerd Press & Machine Company, Inc. announced today they recently designed, built and delivered a 1,000 ton hydraulic coining press to Global Parts Networks, LLC (GPN), a company that manufactures brake shoes, brake shoe kits, friction material and related parts for tractor trailers and heavy duty trucks. The Greenerd press was delivered to GPN's South Bend, Indiana facility and features a unique design which enhances part quality and reduces cycle time for the manufacturer. (http://www.greenerd.com/) The new press is the second of two Greenerd presses at GPN and is being used to coin re-manufactured brake shoes in a single-stroke, hand-fed operation.



The Greenerd straight-side, 8-point gib-guided press features a 36" x 36" bed, 28" of daylight, an adjustable stroke of up to 12", distance and pressure reversal, pressing speeds up to 23" per minute, and a pre-slow down circuit to set height for changeover from rapid advance speed to pressing speed. For operational safety, the press is guarded by vertical light curtains on the front of the press and hard guarding on the sides and rear.



"Not only is our new Greenerd press extremely reliable," commented Mr. Gene Damron, General Manager of GPN, "but it has also improved the quality of the parts we are producing. In addition, the press increased our efficiency by significantly reducing cycle times."



"We are very pleased to provide this press for GPN," said Mr. Tim Dining, President at Greenerd Press & Machine Co. "It is an excellent example of our ability to design and build successful hydraulic solutions and it also demonstrates our strength in the automotive sector."



About Global Parts Network, LLC

Global Parts Network, LLC (GPN) is a wholly-owned subsidiary of VIPAR Heavy Duty that provides seamless service and support exclusively to the VIPAR Heavy Duty network of distributors and suppliers. GPN utilizes the latest technology to bring demand chain partners together to create business process efficiencies and specializes in high volume, fast moving parts. In addition, GPN operates its brake manufacturing production centers, CoMan Centers™, focusing on new and remanufactured brake shoes, brake shoe kits, friction material and related parts. For more information, visit www.globalpartsnetwork.com.



About Greenerd

Founded in New England in 1883, Greenerd has designed and built thousands of high-quality custom and standard hydraulic presses since 1934. Machines include an extensive line of Hydraulic Presses in all sizes and configurations. A complete line of Arbor Presses is also available. Greenerd Presses are made to withstand the rigors of around-the-clock production and deliver many years of service.



Greenerd engineers have years of experience successfully designing presses for a broad range of manufacturing applications. They rely on the latest technologies to deliver the safest, most efficient and reliable machine capabilities. View the Greenerd Press Capabilities Video at http://www.youtube.com/watch?v=bJ98RsTIQn0 to learn more about Greenerd's solutions.



Greenerd Presses are available as standard machines or can be designed for custom applications. For more information, contact Mr. Tom Lavoie at Greenerd. Phone number 800-877-9110, x 251, e-mail tlavoie@greenerd.com or visit www.greenerd.com.

Related