Greenerd Builds, Delivers Ilsco Corp.'s First Hydraulic Press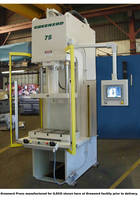 NASHUA, NH U.S.A. (April 18, 2011) - Greenerd Press & Machine Company, Inc. announced they recently delivered a 75-ton hydraulic press to ILSCO Corp., a leading manufacturer of electrical connectors located in Cincinnati, OH. The press marks a shift from mechanical presses to hydraulic presses to form their electrical connectors.

The Greenerd press is a 75-ton hydraulic press that ILSCO will use for punching, trimming and marking electrical connectors in aluminum, and forming in copper. With adjustable stroke length and tonnage, the new Greenerd press enabled ILSCO to replace three different, full-revolution mechanical presses with just one hydraulic press. The new press also allows ILSCO to further standardize die sets, which has reduced set-up time over 50%. In addition, the Greenerd machine is also safer to operate than their mechanical presses.

"After some investigation, we determined that hydraulic was a better option for our operation. Greenerd was the logical choice because of the company's design and manufacturing expertise, solid reputation, reliability, prompt customer service and impeccable references," said Mr. Keith Tipton, Manufacturing Engineer at ILSCO. "We have already seen first hand how the Greenerd press has improved our forming operation."

The Greenerd press includes a heavy, welded frame that provides maximum rigidity and minimum deflection for accurate parts and long tool life. The machine also features a removable press table that makes it quick and easy to drill and tap tool-mounting holes or resurface the table. A large daylight and throat depth accommodates large dies, and long stroke lengths are adjustable from about 1" to a maximum of 18".

"We are pleased to provide ILSCO with the first hydraulic press to be integrated into their manufacturing operations," commented Mr. Tim Dining, President of Greenerd Press & Machine Company, Inc. "We were able to deliver a press that is easy to set up, performs a number of different operations and is safe for them to operate."

About ILSCO Corp.

ILSCO Corp. is a privately held company that was founded in 1894. The company manufactures more than 15,000 connector solutions including SureCrimp®, ClearTrax®, Nimbus®, ClearTap®, SnapBloc® and Kup-L-Tap® for OEM, wholesale and utility markets, all backed with award winning on-line support and personal service. With 220 employees in its Cincinnati location and four additional manufacturing facilities in the U.S. and Canada, ILSCO's aggressive entrepreneurial spirit has been a guiding force sustaining and growing the company for over 100 years. Visit www.ilsco.com to learn more.

About Greenerd Press & Machine Co.

Founded in New England in 1883, Greenerd has designed and built thousands of high-quality custom and standard hydraulic presses since 1934. Machines include an extensive line of Hydraulic Presses in all sizes and configurations. A complete line of Arbor Presses is also available. Greenerd Presses are made to withstand the rigors of around-the-clock production and deliver many years of service. Greenerd Presses are available as standard machines or can be designed for custom applications by expert engineers with extensive application experience. For more information contact Mr. Tim Dining at Greenerd. Phone number 800-877-9110, x 251, or email tdining@greenerd.com or visit their new web site at www.greenerd.com.


Related