Cleaning Compounds and Chemicals
Green Cleaning Chemical Program for Agricultural Resellers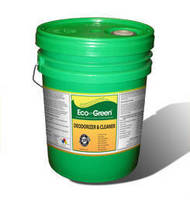 Daimer®'s new program offers low-cost entry for wholesalers that want to sell biodegradable cleaning solutions to the farming industry.

Press Release Source: Daimer Industries, Inc.®

WOBURN, MA, U.S.A. - Daimer Industries®, known as a major supplier of green cleaning chemical products for agriculture, announced a new low-priced program for resellers that want to offer the company's Eco-Green® line of cleaning solutions. The Agricultural Reseller Program accepts orders as small as $5,000 from qualified companies. The program lets those interested in green chemicals sell Daimer® chemicals using the Eco-Green® brand name or a private label.

Eco-Green® cleaning chemical formulations offered in the agricultural program include: vehicle washes, machinery cleaners, metal degreasers, concrete stain removers, deodorizers, and hand wash formulas.

"Resellers serving the agriculture and farming industries can now sell our environmentally-safe, green chemicals without investing a fortune," according to Daimer.com's Eco-Green® cleaning chemical spokesman John Lindstrom. "We redesigned our reseller program to make starting a green chemical business easier and more affordable.

Agricultural Green Cleaning Chemical Products for Safety

Eco-Green® chemicals designed for agriculture and farming dissolve grease, oil, dirt, stains and more. The products are effective on a variety of hard and soft surfaces as well as machinery. The chemicals are manufactured with plant and soy-based cleaners that use food-grade blends. These green cleaning chemical compounds are proven environment-safe and free of toxic ingredients, such as carcinogens, dangerous solvents, and VOCs. Eco-Green® chemicals are regarded as safe according to the hazard diamond of the National Fire Protection Association.

Eco-Green® cleaning chemical solutions rely on a micron-based cleaning technology engineered to remove oil, grease and dirt. The products contain a colloidal Micro-Blasting® chemistry that is effective on metal, stone, tile, grout, wood, and other surfaces.

Green Chemicals Engineered for Resellers

Daimer®'s enhanced program provides reseller support that includes: MSDS (Material Safety Date Sheets), access to Daimer®'s staff experts, and assistance with navigating federal and local regulations. Resellers can sell products under the Eco-Green® label, which means they benefit from the brand's internationally recognized brand name and global promotion by Daimer®'s marketing staff.

Reseller customers can also choose to offer Eco-Green® cleaning chemical products using a proprietary brand name. These private labeling customers receive Daimer® assistance with packaging, trademarking, labeling, and numerous other tasks. Daimer® can also custom-formulate chemicals for specific customer applications.

Daimer® offers reseller programs for other industries, including: automotive, hospitality, food processing and manufacturing.

For more information about Eco-Green® cleaning chemical formulas, grout sealing products, aluminum cleaners and green industrial chemicals, visit www.daimer.com/eco-green-chemicals/ or e-mail John Lindstrom at johnl@daimer.com.

About Daimer Industries, Inc.®: Daimer®, www.daimer.com, is a major supplier and worldwide exporter of the cleaning industry's leading line of KleenJet® steam cleaners/vapor steam cleaners/steam cleaning equipment; Super Max(TM) commercial and industrial pressure washers, including cold water, hot water, and steam pressure washing machines; XTreme Power® floor cleaners, including carpet cleaners, hard surface cleaners, and floor buffers/scrubbers/burnishers; and the line of Micro-Blasting® Eco-Green® environmentally friendly cleaning products that employ unique technologies and a patented, proprietary chemistry.


More from Electronic Components & Devices