Cleaning Compounds and Chemicals
Green Carpet Cleaner suits auto detailing applications.
Press Release Summary: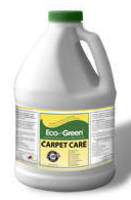 Certified as Readily Biodegradable, Eco-Green® Carpet Care is 100% derived from plants/vegetables and has no ozone-depleting substances, synthetics, or VOCs. Non-toxic product, combining effectiveness and safety, tackles industrial-strength stains. Using Micro-Blasting® technology, cleaning solution encapsulates dirt and then crystallizes when it dries. Product works on virtually any type of carpeting and can be applied using hand brush or cleaning machines.
---
Original Press Release:

Daimer Industries Announces Eco-Green® Carpet Care for Auto Detailing Professionals



Non-toxic mobile car detailing product is among the first to offer effectiveness and safety in one plant-based formulation.

WOBURN, MA - July 20, 2009 - Daimer Industries, a major supplier and worldwide exporter of commercial cleaning products, announced Eco-Green® Carpet Care, a fast-acting, all-natural, 100% plant-based, carpet cleaning formula designed for industrial-strength stains.

"Daimer's Eco-Green® Carpet Care addresses the negative environmental impacts, health risks and liability associated with the use of traditional auto detailing carpet products," said Daimer.com spokesperson Matthew Baratta. "And it's powerful and easy to use."

Like all Eco-Green® products, this auto detailing formulation is derived from plants and vegetables without any ozone-depleting substances, synthetics or VOCs. The product has been certified as Readily Biodegradable, which means it biodegrades by more than 90% within 28 days, or about 50% faster than most competitors. Eco-Green® chemicals are also safe to use as evidenced by all zero values on the National Fire Protection Association (NFPA) hazard diamond.

Eco-Green® Carpet Care features Daimer's unique Micro-Blasting® technology, which uses nano-based particles, 1/80,000 the thickness of human hair, to penetrate dirt molecules for the quick and easy removal of stains, oil and unwanted substances.

This new auto detailing carpet cleaner encapsulates dirt and then crystallizes when it dries so no sticky residue remains to re-soil treated areas. The encapsulated soil and residue can be vacuumed providing for cleaner carpets and exceptional mobile car detailing results.

Eco-Green® Carpet Care is effective on the toughest stains, including those from pets, dairy products and ink. The product works on virtually any type of carpeting. It can be applied using a hand brush or with a number of cleaning machines including: cold- or hot-water carpet extraction equipment, shampoo machines and steam extractors.

Part of New Eco-Green® Auto Detailing Product Line

The Eco-Green® auto detailing line includes products for cleaning vehicles as well as shops and garages. The mobile car detailing products include: Chrome & Steel Metal Cleaner, Deodorizer & Cleaner, Heavy Duty Car Wash, Glass Cleaner, Upholstery Cleaner, and Truck Wash for cleaning commercial and recreational vehicles.

For cleaning tools, machinery, and garage areas, Daimer offers: Ultra-Power(TM) Super Duty Degreaser, Ultra-Power(TM) Parts Washer & Cleaner, and Concrete Cleaner with Rust Stain Remover. There is even a heavy duty, yet safe, Eco-Green® Hand Wash Cleaner Gel.

Daimer also offers a complete line of mobile car detailing pressure washers and auto detailing upholstery and carpet cleaner machines.

Auto detailing operations that would like to reduce the costs associated with hazardous material disposal, the regulatory compliance associated with certain "traditional" cleaning products and the liability associated with the use of toxic/harmful substances can learn more about Eco-Green® products online at www.daimer.com. Questions and requests for additional information can be directed to Matthew Baratta by calling (888) 507-2220.

About Daimer Industries

Daimer is a major supplier and worldwide exporter of the industry's leading line of KleenJet® steam cleaners; XTreme Power® carpet cleaners, hard surface cleaning machines, floor buffers/scrubbers/burnishers; Super Max(TM) and Vapor-Flo® pressure washers; and the line of Micro-Blasting® Eco-Green® ecologically friendly green chemicals that employ unique technologies and a patented, proprietary chemistry. The company also offers a line of car wash equipment that includes mobile car wash systems and steam car wash pressure washers.

More from Agricultural & Farming Products