Grease Pump dispenses precise amount.
Press Release Summary: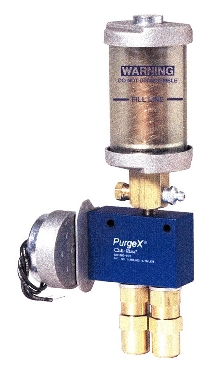 PurgeX(TM) has single piece piston that dispenses up to 0.012 cu in. of grease per cycle. Grease is supplied from reservoir to injector pump. Reservoir location is not critical, and meters can be mounted in any position. Electrical energy from switch timer or computer will activate system. Buna N and Viton seals are used throughout for positive sealing. All air and impurities are completely ejected with each stroke, thus eliminating vapor lock.
---
Original Press Release:
New Single Piece Piston in Motor Driven Grease PurgeX(TM)

Oil-Rite Corporation of Manitowoc, Wisconsin has made a dramatic improvement to its motor driven grease pump. In its outstanding achievement, Oil-Rite has patented a single piece piston which not only has tremendous performance, but also greatly reduces manufacturing costs. It can save time and money by dispensing a precise set amount of grease each time it is cycled.

Designed for heavy duty mining machinery, steel mills, turbines, cables, die cast molds, packaging machinery, conveyors, or where an exact amount of grease is required. The motor driven grease lubricator will find itself useful in many industries such as Food; Medical; Printing; Chemical; Farm; Paper; Plastic and Marine.

Operation is simple. Grease is supplied from a reservoir to the injector pump. Reservoir location is not critical, and the meters can be mounted in any position. Electrical energy from an appropriated switch timer or computer will activate the system. Shutting off the electrical supply will immediately stop the grease. No after drip will be present.

The PurgeX Grease Injector Pump will withstand adverse conditions since it is constructed of light weight aluminum with brass and steel components for long life. Buna N and Viton seals are used throughout for positive sealing. The small gear motors for driving the pump are available in various configurations, including servo motors. All common AC and DC voltages are available.

Designed around Oil-Rite's patented PurgeX method all air and impurities are completely ejected with each stroke; thus eliminating vapor lock.

Each grease injector pump operates individually and is available in single feed or multiple feed outlets. The injectors are precisely adjustable in grease output of 0 up to .012 cubic inch per cycle.

The new grease injector pump will be a welcome addition to all industry. It will produce positive metering results, reliably, economically, and with little attention after initial set up.

For further information contact:
Carolyn M. Boldt
President
Oil-Rite Corporation
4325 Clipper Drive
P.O. Box 1207
Manitowoc, WI 54221-1207
Telephone: (920) 682-6173
Fax: (920) 682-7699
Internet: www.oilrite.com
E-mail: sales@oilrite.com

More from Mining, Oil Drilling, Refining Products & Equipment