Grayling and Shiseido Prove that Packaging Efficiency Is More Than Cosmetic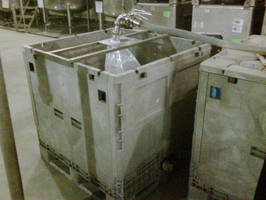 Atlanta, Georgia - When Shiseido (pronounced "She-Say-Doe"), one of the world's largest prestige cosmetics manufacturers, wanted to increase production efficiency while reducing their material handling and overhead costs, they turned to Grayling Industries, a leading manufacturer and distributor of industrial packaging.

According to Ladislav Hanzes, executive director of manufacturing for Davlyn Industries, a wholly owned subsidiary of Shiseido, "We were using 55 gallon drums to package and ship many of our products all over the world and, as quality is our top most concern, we wanted to reduce any potential for contamination or leakage during processing and transportation". "We discussed our requirements with Grayling and they helped us choose a Guardian round bottom form-fit 55 gallon drum liner with a two-inch top fill fitment to meet our needs".

Working out of the Davlyn Industries offices in New Jersey, Hanzes and his staff then undertook a year-long Six Sigma study evaluating the benefits of going from their 55 gallon drums to a larger 1,000 liter tote. Davlyn had experience with stainless steel totes but part of the study was to evaluate other material handling options. The study revealed that by switching to a collapsible tote with a form fit liner, they could save valuable warehouse space, eliminate cleaning costs and reduce the risk of product contamination. Grayling, who manufactures Guardian form fit IBC tote and drum liners, recommended Buckhorn, a manufacturer of collapsible totes, and the two companies presented Hanzes with the complete solution; a Buckhorn collapsible tote with a Guardian form fit liner.

"Grayling helped us in several ways," said Hanzes. "They found the right container and liner combination for us and were very courteous and professional in their approach and presentation of various options to address our specific application. I've already recommended Grayling as a resource to one of our sister companies".

The end result was that Davlyn / Shiseido was able to reduce material handling costs by 27 percent and warehouse space requirements by over 30 percent.

About Grayling Industries:

Grayling Industries is a North American manufacturer of specialized flexible film products for industrial applications. Markets served are industrial packaging and environmental safety. Primary products are intermediate bulk containers and liners and products for contamination control on asbestos abatement projects. Brands include; Guardian(TM) IBC container liners for liquid and dry applications, PaperIBC(TM) containers and Avail(TM) glovebags, Control(TM) chemicals, D-Con(TM) disposable showers and Durapax(TM) disposal Bags for asbestos abatement.


More from Laboratory and Research Supplies and Equipment