Grayhill's Latest CANbus Keypads and MMI Controllers are Suitable for Mining Equipment Controls
Press Release Summary: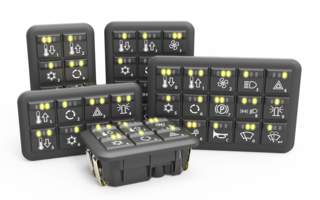 Grayhill's CANbus Keypads and MMI Controllers are available in J1939 and CANOpen Safety versions and are suitable for agriculture and construction applications. Units are enhanced with Safety Diagnostic Functions for reporting status of Incoming Power and the functionality of buttons/LED indicators. Operated in -40°C to +85°C temperature range, keypads and controllers are resistant to vibration and are sealed IP67 standards. Units deliver a life of 1,000,000 cycles per key and are designed for 12/24 V systems.
---
Original Press Release:
Grayhill Announces Updated CANbus Keypads and MMI Controllers for Off-Highway Vehicles
Ideal for agricultural, construction and mining equipment controls
LaGrange, IL – Grayhill, Inc. announces the release of an exciting line of updated CANbus keypads and MMI Controllers for off-highway vehicles. As the originators of CANbus Keypads and Jog Dial controls intended the Off-Highway marketplace since 2003, Grayhill has developed the new line of CANbus keypads and MMI Controllers especially for agricultural, construction, mining and other large capacity equipment.
CANbus controls give operators access to a greater number of functionalities in a smaller footprint. With many available standard form factors and three standard legend sets, the new Grayhill CANbus keypads and MMI Controllers are made to be customized. Designers can change legends, backlight LED indicator color, and button configurations.
The new line of CANbus keypads and MMI Controllers now feature a lower profile that protrudes from the panel only about half the distance as the original versions. An innovative new snap fit feature means the keypad and MMI Controllers can be easily snapped into the panel cutout – no tools needed for installation! New Safety Diagnostic Functions actively report the status of Incoming Power and the functionality of Buttons/LED indicators. The new low power sleep mode saves energy, reducing the possibility of draining the battery. LED indicators are now raised above the buttons, giving users a much clearer image and excellent off-angle visibility, even when not viewed from the optimal viewing angle.
In addition to expanding the number of sizes available, Grayhill also expanded integration options by adding input/output (I/O) pins that can be controlled by the CANbus interface for door lights, heat sensors, and other analog outputs.
Key advantages include:
Five standard keypad form factors available
J1939 and CANOpen Safety versions
Dimmable LED indicators and legends
Sealed to IP67
Vibration and impact resistant
Operating temp: -40°C to +85°C
Long life: 1,000,000 cycles per key
Support for multiple key press combinations
Designed for 12/24 volt systems
Custom legends and configurations available
About Grayhill
Grayhill, Inc. is a privately held firm which designs and manufacturers intuitive human interface solutions that make life simpler, safer and more efficient. Standard products include optical and hall effect encoders, discrete and hall effect joysticks, rotary switches, keypads, and pushbuttons; all with finely tuned haptics. Grayhill specializes in creating ergonomic panels and product shells that integrate various interface technologies, including displays, our components, and gesture recognizing multi-touch technology. With headquarters in La Grange, Illinois, and multiple state-of-the-art facilities around the world, Grayhill's team has the full engineering, product development and manufacturing expertise to deliver both standard and customized products quickly and cost-effectively. To learn more about Grayhill's products and capabilities, visit www.grayhill.com or email info@grayhill.com.
Contact: Kristin Nugent
McNeil, Gray & Rice, Inc.
617-367-0100 ext. 148
More from Packaging Products & Equipment