Gravimetric Feeder offers extrusion following option.
Press Release Summary: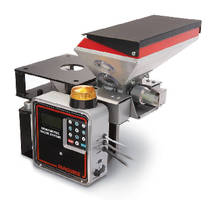 Designed to feed colorants and additives into plastics processing machines, Maguire® MGF(TM) Feeder includes multilingual operator access and full data retrieval as standard. Installed in controller, optional extrusion following system monitors a or dc voltage output from tachometer, and since output varies with extruder rpm, controller instantly senses gross changes in extruder speed and adjusts color or additive metering rate accordingly, avoiding falloff in accuracy.
---
Original Press Release:

Low-Cost Gravimetric Feeder Now Comes with 'Extrusion Following' Option



Maguire® MGF(TM) Feeder Immediately Senses Major Changes in Extruder Speed and Adjusts Colorant and Additive Dosing Accordingly, yet Costs the Same as Volumetric Feeders

ASTON, PA, U.S.A., March 25, 2009: New capabilities for Maguire's MGF(TM) gravimetric device for feeding colorants and additives into plastics processing machines include multilingual operator access and full data retrieval as standard features for all molding and extrusion applications, plus a new "extrusion following" option, it was announced today by Maguire Products, Inc. The feeder is available from Maguire worldwide, with language capabilities including Czech, English, French, German, Italian, Polish, and Spanish

The optional extrusion following system automatically anticipates and adjusts for gross variations in extruder rate like those during changes of film rolls, noted B. Patrick Smith, vice president of marketing and sales.

"The minimal added cost of the extrusion following option enables film manufacturers and other extrusion processors to obtain the accuracy of a Maguire® MGF gravimetric feeder while avoiding the productivity losses that occur when color metering does not keep pace with ramp-ups in line speed," said Smith. "The overall investment is still comparable to that for conventional volumetric feeders and 25 to 35% less than for competing gravimetric systems."

Installed in the controller of the MGF feeder, the extrusion following system monitors the AC or DC voltage output from the tachometer that is standard on most extruders. Because this output varies with extruder RPM, the controller instantly senses gross changes in extruder speed and adjusts the color or additive metering rate accordingly, avoiding the falloff in accuracy that otherwise occurs while the controller "catches up" with changes in rate.

"While the controller software that is standard in all MGF feeders provides exceedingly fast and accurate adjustment to the process variations that normally occur in all production lines, the extrusion following option enables processors whose operations require frequent major changes in line speed to obtain the same level of precision," said Smith.

Calibration of the extrusion following system needs to be done only once. The processor simply sets the metering rate for full extruder speed. Anything less than full speed is automatically reflected in a corresponding reduction in metering rate. Voltages from 1 to 500 can be tracked, with accuracy maintained over the full range of extruder speed.

Gravimetric Feeders Are Inherently More Accurate than Volumetric

The MGF feeder uses load cells to accurately monitor the loss in weight of colorant in the hopper as the material is fed into the injection molding machine or extruder by an auger. The only system component actually mounted on the load cell is the hopper, and this is readily removable from the device, as are the auger, the auger tube, the motor, and the load cell bracket. As a result, it is easier and faster to access components for cleanout or servicing.

The most important advantage of the MGF feeder, however, is accuracy: "Volumetric feeders do not monitor the weight of colorant as it is fed to the processing machine and thus generate no data about how much of the material is actually consumed from moment to moment," Smith said. "Because a gravimetric system generates a wealth of data on color consumption, it adjusts color metering far more accurately to account for process variations."

The key to adjusting for process variations is Maguire's Loss-in-Weight software in the feeder control. This proprietary system scans data on color consumption every half-second and automatically adjusts dispensing when a predetermined amount of accumulated error is detected. "By responding exclusively to accumulated error over a given period of time, Maguire's proprietary software focuses on real changes in throughput, not transitory or anomalous changes caused by vibration, clumping, or surges," Smith said. "Thus the system provides real-time control and absolutely smooth metering consistency."

MAGUIRE PRODUCTS, INC., headquartered in Aston, Pennsylvania, U.S.A., is the world's largest supplier of gravimetric blenders and liquid color pumps and also manufactures loading systems, granulators, dryers, auger feeders, and related equipment and software. Its customers include injection, blow, and rotational molders, extrusion processors, and compounders. Founded in 1977, Maguire operates six manufacturing facilities in Aston. The company maintains a network of distributors in the Americas and overseas and has two sales and service subsidiaries: Maguire Europe, which supports customers throughout Europe and operates a distribution center in Tamworth, Staffordshire, United Kingdom; and Singapore-based Maguire Asia, serves customers throughout South Asia and the Pacific Rim. Visit the Maguire Products web site: www.maguire.com