Gravimetric Blender provides throughputs up to 900 lb/hr.
Press Release Summary: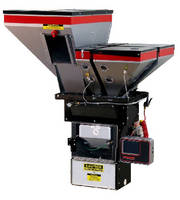 Intended for injection molders and extrusion processors, Maguire® WSB 260R4 features 6 hopper bins, including 2 large bins for natural resin and regrind and 4 minor-ingredient bins that are removable for color and additive changes. While materials in large bins are dispensed by means of slide gates, additive dispensing is carried out with vertical valves. Removable bins are equipped with integral shutoffs to eliminate spillage and hinged lids to facilitate clean-out.
---
Original Press Release:

Blender for Medium-Range Throughputs Doses Six Materials, with Four Removable Hoppers for Fast Changes of Minor Ingredients



Maguire® WSB 260R4 Gravimetric Blender Makes Removable-Bin Concept Available for Molding and Extrusion Lines with Throughputs Up to 400 Kg (900 lb.) per Hour

ASTON, PA, U.S.A., A gravimetric-blender design innovation that has reduced downtime and enhanced user-friendliness for plastics operations in the low throughput range is now available in a medium-capacity blender required by many injection molders and extrusion processors, it was announced today by Maguire Products, Inc.

The Maguire® WSB 260R4 has six hopper bins, including two large ones for natural resin and regrind and four minor-ingredient bins that are removable for fast color and additive changes and easy cleanout. While materials in the large bins are dispensed by means of slide gates like those in many other Maguire blenders, additive dispensing is carried out with vertical valves, which provide a high degree of accuracy when dosing minor ingredients.

The new blender accommodates process throughputs up to 400 kg (900 lb.) per hour, more than double the maximum throughput for the next-largest Maguire blender equipped with removable hopper bins.

"The WSB 260R4 blender is ideal for processors who make frequent product or color changes, since they can quickly empty and refill the removable bins or even keep pre-loaded duplicate bins on standby, reducing the time for color changes to the few seconds it takes to replace one bin with another," said Frank Kavanagh, Maguire Products sales manager.

The lightweight removable bins are equipped with integral shutoffs to eliminate spillage and hinged lids for easy clean-out. There is easy access to all material contact surfaces of the blender, hoppers, feeders, weigh chamber, and mixing chamber, permitting rapid color change without the use of tools.

PHOTO CAPTION: Large hopper at top left in this photo of the Maguire® WSB 260R4 actually consists of two bins for natural resin and regrind. To the right of this hopper are four minor-ingredient bins for colors and additives.

MAGUIRE PRODUCTS, INC., headquartered in Aston, Pennsylvania, U.S.A., is the world's largest supplier of gravimetric blenders and liquid color pumps and also manufactures loading systems, dryers, auger feeders, and related equipment and software. Its customers include injection, blow, and rotational molders, extrusion processors, and compounders. Founded in 1977, Maguire operates six manufacturing facilities in Aston. The company maintains a network of distributors in the Americas and overseas and has three sales and service subsidiaries that stock, sell, and service auxiliary equipment systems from Maguire and its affiliate, Novatec, Inc.: Maguire Canada, headquartered in Vaughan, Ontario; Maguire Europe, supporting customers throughout Europe and operating a distribution center in Tamworth, Staffordshire, UK; and Singapore-based Maguire Asia, serving customers throughout South Asia and the Pacific Rim. Visit the Maguire Products web site: www.maguire.com

More from Agricultural & Farming Products