Gravimetric Blender processes 100-350 lb/hr.
Press Release Summary: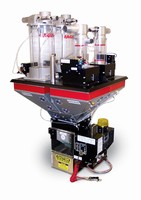 MicroPlus(TM) blender has 4 four removable hoppers for natural resin, regrind, color, and additive. While dispensing systems in 3 hoppers are pneumatic vertical valves, regrind hopper features corner valve for enhanced flow of bulk ingredients that have large or variable particle sizes. For configurations involving use of loaders mounted atop blender, optional pneumatic system automatically lifts hopper lids on which loaders are mounted, easing access to hoppers and bottom of loaders.
---
Original Press Release:

Microplus(TM) Blender Has Greater Capacity Than Microblender® But the Same User-Friendly Features for Reduced Downtime



Four Removable Hoppers Permit Fast Color Changes; Optional Pneumatic System Provides Easy Access for Cleanout

CHICAGO, June 19, 2006: The world's smallest gravimetric blender now has a big brother with similar talents: While the new MicroPlus (TM) blender from Maguire Products, Inc. accommodates processing machine throughputs of 100 to 350 pounds (45-160 kg) per hour instead of the 100-pound maximum of the widely used MicroBlender (R), it provides the same user-friendly features for reducing downtime during color or job changeovers, the company announced today at NPE 2006 (Booth 5507).

Like the MicroBlender, the MicroPlus blender has four hoppers that are removable for quick cleanout and product changeover. The hoppers are typically used for natural resin, regrind, color, and additive. While the dispensing systems in three of the hoppers are pneumatic vertical valves, there is a corner valve in the hopper for regrind, which sometimes flows poorly compared with other ingredients. "The vertical valves are particularly important for precise dispensing of minor ingredients like colorant, while the corner valve provides enhanced flow for bulk ingredients or materials that have large or variable particle sizes," said B. Patrick Smith, vice president of marketing and sales.

For machine configurations involving use of loaders mounted atop the blender, Maguire has developed an optional, patent-pending pneumatic system that further reduces changeover time by automatically lifting the hopper lids on which the loaders are mounted, easing the process of gaining access to the hoppers and to the bottom of the loaders.

More than 4,000 MicroBlenders are now in operation, according to Smith, and Maguire recently enhanced the system by converting the hoppers to stainless steel for greater resistance to corrosion and surface damage, and by incorporating new-design vertical valves with greater resistance to jamming. These improvements are also standard on the new MicroPlus blender.

Another standard feature on the MicroPlus is a newly enhanced controller developed for the entire Maguire (R) line of blenders, with a number of improvements for greater user friendliness, broader communications with other systems, and more versatile deployment. Alternatively, customers can specify the company's touchscreen controller, also new, with wireless connectivity and built-in Ethernet architecture. (See accompanying news release on both controllers.)

MAGUIRE PRODUCTS, INC., headquartered in Aston, Pennsylvania, U.S.A., is the world's largest supplier of gravimetric blenders and liquid color pumps and also manufactures loading systems, granulators, dryers, auger feeders, and related equipment and software. Its customers include injection, blow, and rotational molders, extrusion processors, and compounders. Founded in 1977, Maguire operates five manufacturing facilities in Aston and Smithfield, Rhode Island, U.S.A. The company maintains a network of distributors in the Americas and overseas and has two sales and service subsidiaries: Maguire Europe, which supports customers throughout Europe and operates a distribution center in Tamworth, Staffordshire, United Kingdom; and Singapore-based Maguire Asia, serves customers throughout South Asia and the Pacific Rim. Visit the Maguire Products web site: www.maguire.com

More from Packaging Products & Equipment