Gravimetric Blender precisely doses difficult materials.
Press Release Summary: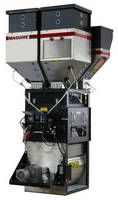 Suited for use by plastics processors, MaxiBatch(TM) 2400 Weigh Scale Blender is rated for process throughputs to 6,000 lb/hr and handles raw materials in various forms: regular pellets and regrind, bulk powders, and flake as well as bridge-prone ingredients such as wood flour. Design accommodates up to 12 removable hoppers for as many ingredients, and hoppers incorporate different dispensing devices. Microprocessor makes corrections from batch to batch, maintaining accuracy within ±0.1%.
---
Original Press Release:

New MaxiBatch(TM) Blender Meters up to 2,725 kg/hr. and Precisely Doses Powders, Wood Flour, and Other 'Difficult' Bulk Materials



For Compounders and Extrusion Processors, including Producers of Wood-Plastics Composites, New Blender Fills Gap between Original MaxiBatch and Standard Blenders

DÜSSELDORF: A new model of Maguire's innovative MaxiBatch(TM) gravimetric blender provides a new throughput option for plastics processors, enabling them to obtain the advantages of Maguire® Weigh Scale Blenders (WSBs) while precisely and efficiently dosing large quantities of hard-to-handle bulk powders, it was announced by Maguire Products, Inc. at K 2010.

The new MaxiBatch(TM) 2400 WSB is rated for process throughputs of up to 2,725 kg (6,000 lb.) per hour-50% less than the MaxiBatch 3000 model but 17% greater than the largest standard Maguire blender, the WSB 1800. At the same time the smaller MaxiBatch unit provides the same diverse capabilities that distinguish MaxiBatch blenders from standard WSBs, according to Frank Kavanagh, sales manager.

Besides accommodating higher volumes than standard WSBs, MaxiBatch blenders handle raw materials in a wider variety of forms, including regular pellets and regrind, bulk powders, flake, and ingredients that are especially bridge-prone, such as wood flour. The blenders accommodate up to twelve removable hoppers for as many ingredients, and the hoppers incorporate different dispensing devices, each designed for precise dosing of a particular type of raw material into the weigh chamber. As in standard Maguire WSBs, once all ingredients are metered into the weigh chamber, the batch falls into a mixing chamber. A microprocessor makes corrections from batch to batch, including adjustments to compensate for variations in extrusion rate or bulk density, maintaining overall batch accuracy to within + / - 0.1%.

The specialized dispensing devices in the removable hoppers include: 1) a high-flow corner valve for pellets or regrind; 2) a low-flow pivot valve for pellets, regrind, and some long glass fiber-reinforced materials; 3) a wood flour / powder feeder with internal bridge breaker; 4) a 50-mm (2-in.) feeder for pelletized additives; and 5) a small-capacity powder feeder. Because the hoppers are interchangeable, it is easy to vary batch recipes, according to Kavanagh.

"The share of operating costs accounted for by raw materials typically increases with production throughputs, as does the likelihood that they will be using bulk powders and other difficult-to-meter ingredients," noted Kavanagh. "The MaxiBatch system enables companies with the greatest volumes to achieve the same exceedingly fine control over ingredient consumption and batch consistency that standard Maguire blenders have long made available to other processors."

MAGUIRE PRODUCTS, INC., headquartered in Aston, Pennsylvania, U.S.A., is the world's largest supplier of gravimetric blenders and liquid color pumps and also manufactures loading systems, dryers, auger feeders, and related equipment and software. Its customers include injection, blow, and rotational molders, extrusion processors, and compounders. Founded in 1977, Maguire operates six manufacturing facilities in Aston. The company maintains a network of distributors in the Americas and overseas and has three sales and service subsidiaries that stock, sell, and service auxiliary equipment systems from Maguire and its affiliate, Novatec, Inc.: Maguire Canada, Maguire Europe, and Maguire Asia. Visit www.maguire.com

Maguire Products, Inc., 11 Crozerville Road, Aston, PA 19014 USA. Tel: 1-610-459-4300. pat@maguire.com. Maguire Canada, 299 Basaltic Road, Unit 1, Vaughan, Ontario L4K 4W8. Tel: 905-879-1100. info@maguirecanada.com. Maguire Europe, Vanguard, Tame Park, Tamworth, Staffordshire B77 5DY United Kingdom. Tel: 44-1827-265-850. paul@maguire-europe.com. Maguire Europe (Italy), Maguire Italia SRL, Via Cile, 14, 35127 Padova, Italy. Tel: 39-049-970-5429. Italia@maguire-europe.com. Maguire Asia, Maguire Products Asia Pte Ltd., 45 Kallang Pudding Road, No. 01-02 Alpha Building, Singapore 349317. Tel: 65-6848-7117. magasia@singnet.com.sg. Maguire Asia (China), Maguire Products Asia Co. Ltd., 7C-02 Majesty Building, 138 Pu Dong Avenue, Shanghai 200120 China. Tel: 86-21-588-23410. mpa@maguirechina.com.

Robert J. Martino
Martino Communications Inc.
8 Main Street / P.O. Box 379
Hastings-on-Hudson, NY 10706 U.S.A.
Tel: 1-914-478-0754
Fax: 1-914-478-0959
Email: bob@martinocommunications.com
Visit www.martinocommunications.com

More from Material Handling & Storage