Gravimetric Blender has gravimetric/volumetric modes.
Press Release Summary: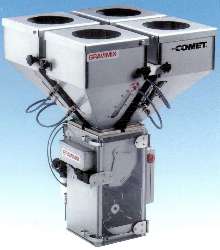 GraviMix Micro Blender, with Auto-Pulse system, may be installed directly on processing machinery to meter, weigh, and blend up to four components. Equipped with removable hoppers for each component, machine meters components individually via pneumatically operated metering valves. Each component is dispensed directly to weigh pan supported by loadcell system. Pneumatically driven, horizontal mixer provides uniform blend of free-flowing thermoplastic materials.
---
Original Press Release:

Comet Automation Systems, Inc., Introduces Comet GraviMix Micro Blender


DAYTON, Ohio, (March 4, 2003) -- Comet Automation Systems, Inc., a leading manufacturer of corrosion-free stainless steel auxiliary equipment has introduced Comet GraviMix Micro Blender: an efficient gravimetric blending system with the unique "Auto-Pulse" system. GraviMix Micro, is a small, economical and user-friendly blending system.

The GraviMix Micro gravimetric blender is a small, efficient metering, weighing and blending system. It can be installed directly on the processing machine, and is designed to accurately blend free-flowing thermoplastic materials. It is especially suited for use on injection molding, small extrusion and blow molding machines where consistency and high quality finished products are required.

The GraviMix Micro gravimetric blender meters, weighs and blends up to four components, generally virgin, regrind, masterbatch and various additives. The GraviMix Micro is equipped with removable hoppers for each component. The components are metered individually using pneumatically operated metering valves. The GraviMix Micro gravimetric blender is equipped with a unique Auto-Pulse system that maintains accuracy even on small quantities. Each component is dispensed directly into the weigh pan that is supported by a highly precise loadcell system. When all the components are correctly weighed, the complete batch is discharged into the mixing chamber. An efficient, pneumatically-driven horizontal mixer provides a uniform blend. A level sensor in the mixing chamber controls the metering and blending cycle.

Unique Features
o Compact, space saving design and easy installation
o Simple setting of required percentages and ratios
o Accurate, repeatable process and self calibrating
o While blending, the next batch will be completed
o After every metering cycle, the control automatically corrects differences from the preset values
o Small hopper loaders of your own choice
o Gravimetric / volumetric mode to increase throughput
o Removable hoppers for quick material change
o Security password levels
o Unique Auto-Pulse control system - maintains accuracy even on small batches
o Totalizing of all blended materials, saving thousands of dollars in JIT operation of your plant

About Comet Automation Systems, Inc.
As a leading supplier to Fortune 500 companies, Comet has consistently led in designing advanced blending and drying systems. Comet provides material handling solutions for injection molders and extruders.

Comet is a global company with manufacturing facilities in U.S.A., and sales/service in mainland China, Taiwan, Hong Kong, Korea, Singapore, Philippines, Malaysia, Mexico, and Brazil.

For more information:
Sam Rajkovich
Tel : 800-328-5088
Email: info@cometauxiliary.com
Web: www.cometauxiliary.com

Related