Graphite Blank Estimating & Purchasing Software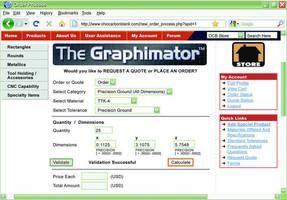 Ohio Carbon Blank Inc. announces the GRAPHIMATOR(TM), the first 24/7 estimating and ordering software for graphite blanks that offers "EASY ORDERING." This new software was created to make both the estimating and purchasing of graphite blanks simple without waiting.

Features include:


Menu driven display of materials, finish, dimensions (X,Y,Z), tolerances and quantities.


Competitive pricing at your fingertips for quotations eliminating phone, FAX and email time.


Access to your company's previous GRAPHIMATOR(TM) quotations instantly online without looking for paper copies.


3% savings on all orders placed using the GRAPHIMATOR(TM) with instant email order confirmations that can be electronically filed.


Use the GRAPHIMATOR(TM) when and where you need it.


"EASY SIGNUP ", "EASY ORDERING" - only from Ohio Carbon Blank Inc.


More from Sensors, Monitors & Transducers