Graphics Display Module targets airborne and ground vehicles.
Press Release Summary: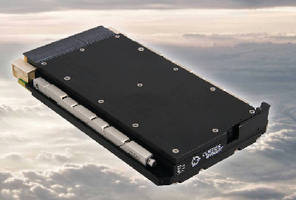 Based on AMD's embedded Radeon™ Adelaar GPU, VPX3-716 3U OpenVPX™ Graphics Display Card features 6 independent graphics outputs, 2 GB of dedicated video memory, and H.264 MPEG4 motion video decoders. Module meets long lifecycle availability required for military programs through use of CoreAVI software drivers. Device supports embedded training, moving apps, GIS, 360° situational awareness, Diminished Vision Enhancement, and other graphics and video intensive applications.
---
Original Press Release:

Curtiss-Wright Controls Debuts Rugged Multi-Head Next Generation Graphics Display Module



New VPX3-716 3U OpenVPX Board Features CoreAVI Software Drivers to Deliver 20-Year Lifecycle Support



ASHBURN, Va. — Curtiss-Wright Controls Defense Solutions, a business group of Curtiss-Wright Controls, has introduced its highest performance embedded graphics module, the new VPX3-716 3U OpenVPX™ six head graphics display card, its first based on AMD's next generation embedded Radeon™ Adelaar GPU. The rugged VPX3-716 module is designed for use on deployed airborne and ground vehicle platforms and meets the long lifecycle availability required for military programs through use of a suite of CoreAVI software drivers supported with 20-year component supply program. Curtiss-Wright continues to demonstrate a commitment to provide longevity of supply for high performance graphics products, including the PMC-704 and XMC-715, that typically have short life cycles and are susceptible to obsolescence. The VPX3-716's large complement of dedicated video memory, combined with its very high bandwidth, make it ideal for use in demanding graphics-rich applications that require extensive video processing and display capabilities. The VPX3-716 is especially well-suited to support embedded training, moving maps, Geographic Information Systems (GIS), 360 degree situational awareness, Diminished Vision Enhancement (DVE) and other graphics and video intensive applications.



The highly rugged VPX3-716 3U OpenVPX™ module delivers unmatched performance and flexibility. When combined with a processor mezzanine in the XMC site, the module provides the highest performing rugged graphics capability in a single 3U slot. It features six independent graphics outputs, 2 GB of dedicated video memory, and H.264 MPEG4 motion video decoders, making it ideal for use in a wide variety of ground and airborne environments. For example, The VPX3-716 graphics engine delivers the graphics processing horsepower, large video memory, and the very high CPU-to-Graphics Processing Unit (GPU) bandwidth needed to efficiently run today's embedded training software applications.



"Our new VPX3-716 delivers all the performance and features needed to quickly and cost-effectively integrate graphics display and video capture functionality into airborne and ground platforms," said Lynn Bamford, senior vice president and general manager of Curtiss-Wright Controls Defense Solutions. "This rugged, SWaP-optimized board, combines unmatched I/O and no-compromise graphics processing."



"Curtiss Wright's VPX3-716 takes full advantage of AMD's latest embedded graphics processor featured in an efficient scalable power-performance, ruggedized platform, said Lee Melatti, Managing Director at CoreAVI. "The combination of this impressive graphics module with CoreAVI's proven embedded graphics and video drivers is an excellent graphics solution for high reliability embedded systems."



The VPX3-716 is supported by CoreAVI's suite of embedded software drivers, including OpenGL graphics, OpenCL compute driver, and H.264/MPEG 2 video decode drivers. The CoreAVI software drivers are designed to enable advanced graphics and video support on all popular real-time and safety critical operating systems including Wind River VxWorks, and on customer proprietary platforms. For applications that require safety certification, CoreAVI's software suite includes FAA RTCA DO-178C and DO-254 certification packages that simplify and speed time to market and enable long term availability through the company's 20 year component supply programs.



For more information on the VPX3-716's specifications and software support click here to download the VPX3-716 Factsheet.



For editorial information regarding Curtiss-Wright Controls Defense Solutions products or services, contact John Wranovics, public relations director, Curtiss-Wright Controls, Tel: (925) 640-6402; Email: jwranovics@curtisswright.com.



Sales inquiries: Please forward all Sales and reader service inquiries to Jerri-Lynne Charbonneau, Curtiss-Wright Controls Defense Solutions, Tel: (613) 254-5112; Fax: (613) 599-7777; e-mail: defensesales@curtisswright.com.



For additional information on Curtiss-Wright Controls Defense Solutions please visit: www.cwcdefense.com.



About Curtiss-Wright Controls Defense Solutions

Curtiss-Wright Controls Defense Solutions is a long established technology leader in the development of rugged electronic modules and systems for defense applications. Defense Solutions serves as a technology and integration partner to its customers, providing a full range of advanced, highly engineered solutions from modular open systems approaches to fully custom optimized solutions. Our unmatched capabilities and product breadth span from industry standard based COTS modules to complete electronic subsystems. The company's modules and systems are currently deployed in a wide range of demanding defense & aerospace applications including C4ISR systems, unmanned subsystems, mission computing, fire control, turret stabilization, and recording & storage solutions. Additionally, the company's broad engineering capabilities combine systems, software, electrical, and mechanical design expertise with comprehensive program management and a broad range of life-cycle support services. For more information visit www.cwcdefense.com.



About Curtiss-Wright Controls, Inc.

Headquartered in Charlotte, N.C., Curtiss-Wright Controls is the Control segment of Curtiss-Wright Corporation. With manufacturing facilities around the world, Curtiss-Wright Controls is a leading technology-based organization providing niche motion control products, subsystems and services internationally for the aerospace and defense markets. For more information, visit www.cwcontrols.com.



NOTE: All trademarks are property of the respective owners



John Wranovics

Director of Public Relations

Curtiss-Wright Controls Defense Solutions

jwranovics@curtisswright.com

Mobile: (925) 640-6402

More from Software