Graphics Cards support dual and quad displays.
Press Release Summary: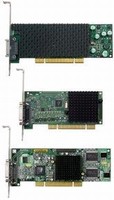 Designed for thin clients and other mission-critical systems, EpicA Graphics Cards have server-based software to manage multi-display configurations in remote sessions. EpicA TC4 simultaneously supports 4 monitors and has 128 MB of graphics memory, while EpicA TC2 and EpicA TC2-Lite simultaneously support 2 monitors and have 64 MB and 32 MB of graphics memory, respectively. All units feature small form factor, passive cooling, and PCI bus interfaces.
---
Original Press Release:

Matrox Announces EpicA Series Graphics Cards for Thin Clients



Montreal, Canada, June 20, 2006 -- Matrox Graphics announces EpicA series dual- and quad-display graphics cards designed for thin clients and other mission-critical systems. EpicA products have new, innovative, server-based software from Matrox to manage multi-display configurations in remote sessions. The cards also feature support for 2 or 4 digital and analog monitors at a time, small form factors, low power
consumption, passive (fanless) cooling, and PCI bus interfaces.

"EpicA series represents our continuing effort to bring reliable, high-quality, Matrox multi-display solutions to a wider variety of professional systems," says Samuel Recine, Business Development Manager, Matrox Graphics. "EpicA products are ideal for mission-critical environments that need small, reliable, space-saving, low-power systems and the productivity advantages of Matrox multi-display technology."

The EpicA series includes the TC4, TC2, and TC2-Lite models. EpicA TC4 supports 4 monitors at a time and has 128 MB of graphics memory. EpicA TC2 and EpicA TC2-Lite support 2 monitors at a time and have 64 MB and 32 MB of graphics memory, respectively. All EpicA products have display driver support for Microsoft® Windows® 2000, Windows XP, Windows XP Embedded (XPe), and Linux® operating systems, and support Microsoft RDP,Citrix ICA for Windows, and Linux rdesktop remote connection software.

For more information on EpicA and other Matrox products, see: http://www.matrox.com/mga/workstation/3dws/products/home.cfm

Availability and pricing -- Matrox EpicA TC4, EpicA TC2, and EpicA TC2-Lite are available now from Matrox and its authorized resellers of EpicA products. For pricing and other sales information, call Matrox Sales at 1-800-361-1408 (North America) or e-mail technicalsales@matrox.com.

About Matrox Graphics Inc. -- Matrox Graphics Inc. is the leading manufacturer of graphics solutions for professionals and has been delivering high-quality, innovative 2D/3D and graphics hardware for over 30 years. Creator of the multi-display phenomenon, Matrox combines its proven graphics chip designs, reliable software development, and dependable card manufacturing expertise to produce products that are
reputed worldwide for their superior image quality, practical ingenuity and unwavering stability. Matrox Graphics designs and supports graphics solutions optimized for utility, empowering professionals to see more and do more. A privately held company headquartered in Montreal, Canada, Matrox has international offices in the United States, the United Kingdom, Ireland, Germany, Italy and Hong Kong. For more information, visit http://www.matrox.com/graphics.

Matrox (R), EpicA(TM) are trademarks of Matrox Graphics Inc. and/or Matrox Electronic Systems Ltd. Other company, product and service names and/or logos indicated above may be trademarks or service marks of such other companies.

More product information:
http://www.matrox.com/mga/workstation/3dws/products/home.cfm

Image library:
http://webtest.matrox.com/mga/workstation/3dws/products/epica/images.cfm

Serge Bohdjalian
Marketing, Matrox Graphics
http://www.matrox.com/graphics
Tel: (514) 822-6000, ext. 2855