Graphics Card suits multi-display applications.
Press Release Summary: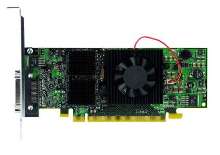 Able to support up to 4 displays at a time, QID LP PCIe has single chip to control displays and to support x16 PCI Express natively. It includes 128 MB of graphics memory and supports resolutions up to 1,600 x 1,200 per display. Suited for mission critical environments, QIC LP PCIe features FanAlert software for system security and support for Microsoft® Windows® 2000 and Windows XP.
---
Original Press Release:

Matrox Announces Industry's First x16 PCI Express, Quad-Display Graphics Card


New Matrox QID LP PCIe graphics card ideal for mission-critical, multi-display applications and monitoring systems

CalNENA, Garden Grove, California, February 1, 2005 -- Matrox Graphics Inc., the leading manufacturer of professional graphics solutions, announces the Matrox QID LP PCIe, the industry's first x16 PCI Express(TM) graphics card for up to four displays at a time. Providing extra reliability and performance, this card has a single Matrox-designed graphics chip to control displays and to support x16 PCI Express natively. Providing extra flexibility, the card supports digital and analog monitors, and has a low-profile design that allows it to fit in a wider variety of systems.

"With this quad-display graphics card, users can get the most out of their PCI Express system," says Sam Recine, product manager, Matrox Graphics. "For mission-critical, multi-display applications like computer-aided dispatch, process control, and security monitoring, users want the quality, features, reliability, and support provided by Matrox, the industry-leader in multi-display technology."

The Matrox QID LP PCIe includes 128 MB of graphics memory and supports resolutions up to 1600 x 1200 per display. Matrox products also have features essential for mission-critical environments, including hardware with high MTBF (Mean Time Before Failure), Matrox FanAlert software for added system security, long product runs, and support for Microsoft(R) Windows(R) 2000 and Windows XP. Display drivers for the Linux(R) and Sun Solaris(TM) x86 operating systems will be available as upgrades.

Pricing and availability:
The Matrox QID LP PCIe graphics card will be available in March 2005 at a list price of $799. This product will be available from authorized resellers or directly from Matrox at shopmatrox.com. For more information, call Matrox Sales at 1-800-361-1408 or e-mail mailto:technicalsales@matrox.com.

About Matrox Graphics Inc.:
Matrox Graphics Inc., the leading manufacturer of professional graphics hardware, has been delivering high-quality, innovative products for more than a quarter century. Pioneer of the trend-setting DualHead(R) technology, Matrox is a graphics chip designer and card manufacturer whose products have been awarded over 1,000 times worldwide for their superior image quality, practical ingenuity, and unwavering stability. A privately held company headquartered in Montreal, Canada, Matrox has international offices in the United States, the United Kingdom, Ireland, France, Germany, Italy, and Hong Kong. For more information, see http://www.matrox.com/mga.

Matrox Graphics, Matrox Electronic Systems, Matrox, and DualHead are registered trademarks of Matrox Graphics Inc. and/or Matrox Electronic Systems Ltd. Other company, product and service names and/or logos indicated above may be trademarks or service marks of such other companies.

For more information:
- Serge Bohdjalian, Marketing, (514) 822-6300 x2855, mailto:sbohdjal@matrox.com
- Web site: http://matroxcad.com/
- Image library:
http://matrox.com/mga/workstation/3dws/news/artwork/home.cfm
- Online sales: shopmatrox.com

Related