Graphics Card features native PCI Express x16 support.
Press Release Summary: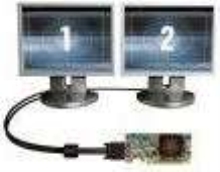 Millennium P650 LP PCIe 64 graphics card delivers 64 MB graphics memory and Matrox DualHead® support for simultaneous use of 2 digital or analog monitors in independent or stretched mode. It also supports multi-display 2D/3D OpenGL and Microsoft DirectX acceleration. Manufactured for small form-factor computers in mission-critical environments, product features Matrox Multi-Display Zoom, PureVideo, Glyph Anti-Aliasing, and Clone technologies.
---
Original Press Release:

Matrox Announces New Low-Profile, PCI Express x16, DualHead Graphics Card


Montreal, Canada, May 25, 2005 - Matrox Graphics Inc., the leading manufacturer of professional graphics solutions, announces the Millennium P650 LP PCIe 64 graphics card, the first low-profile Millennium P-Series product for PCI Express. The product features native PCI Express x16 support, 64 MB of graphics memory, and Matrox DualHead® for using two digital or analog monitors at a time. This announcement follows other recent Matrox releases for PCI Express, including the now-shipping Matrox QID LP PCIe and Millennium P650 PCIe 128 products.

"PC makers and industrial computer builders are increasingly designing small form-factor computers," says Sam Recine, product manager, Matrox Graphics. "For such systems in mission-critical environments, Millennium P650 LP PCIe 64 is an ideal dual-display solution. The product builds on proven Millennium P-Series technology, offers the support and long product life-cycles that Matrox is renowned for, and adds to Matrox's growing family of PCI Express cards for industry and government."

For more information on this and other Matrox products for dispatch and monitoring, see: http://www.matrox.com/mga/workstation/3dws/products/home.cfm

Pricing and availability

The Matrox Millennium P650 LP PCIe 64 graphics card will be available in July 2005 at a list price of $249 (USD). This product will be available from authorized resellers worldwide or, in North America and Europe, directly from Matrox at shopmatrox.com. For more information, call Matrox Sales at 1-800-361-1408 (North America) or e-mail technicalsales@matrox.com.

About Matrox Graphics Inc.

Matrox Graphics Inc. is the leading manufacturer of graphics solutions for professionals and has been delivering high-quality, innovative 2D/3D and video graphics accelerators for more than a quarter century. Creator of the multi-display phenomenon, Matrox combines its proven graphics chip designs, reliable software development and dependable card manufacturing expertise to produce products that are reputed worldwide for their superior image quality, practical ingenuity and unwavering stability. Matrox Graphics designs and supports graphics solutions optimized for utility, empowering professionals to see more and do more. A privately held company headquartered in Montreal, Canada, Matrox has international offices in the United States, the United Kingdom, Ireland, Germany, Italy and Hong Kong. For more information, visit http://www.matrox.com/graphics.

Matrox®, DualHead®, and Parhelia(TM) are trademarks or registered trademarks of Matrox Graphics Inc. and/or Matrox Electronic Systems Ltd. Other company, product and service names and/or logos indicated above may be trademarks or service marks of such other companies.

Key features
o Native PCI Express x16 support
o Low-profile form factor to fit in a wider variety of systems
o Matrox DualHead to use 2 digital or analog monitors at a time (in "independent" or "stretched" mode)
o 64 MB graphics memory
o Matrox UltraSharp Display Output Technology
o Multi-display 2D/3D OpenGL and Microsoft DirectX acceleration
o Unified Microsoft Windows 2000 and Windows XP display driver for Matrox Millennium P-Series and Parhelia Series graphics cards
o Matrox-certified display drivers available for leading CAD and GIS software
o Easy-to-use Matrox PowerDesk driver interface
o Display pivoting (rotation) support
o Matrox Clone to view a copy of one display on the other display
o Matrox Multi-Display Zoom to view a portion of one display full-screen on the other display
o Matrox PureVideo to view hardware-accelerated video playback in a video window on one display and full-screen on the other display
o Matrox Glyph Anti-Aliasing for the hardware-accelerated smoothing of text edges
o Support for customizable unattended installation for rapid multi-system setup
o Global sales and technical support
o 3-year warranty

Related