Graphic Visualization Development Tools harness 64-bit chipsets.
Press Release Summary: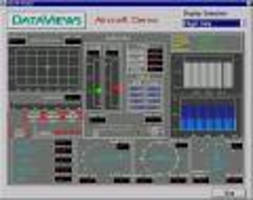 DataViews v9.25 is comprised of graphic visualization development tools for building custom applications. Features enhance performance of display updates, support use of scalable text in input object templates, and allow setting of background color for Scalable Text objects. Along with 64-bit OS support for Red Hat Enterprise v5.3, software also supports SPARC Solaris 10 and Intel Solaris x86. Java programmers can also develop applications using DataViews Java API for Java 2 v1.6.
---
Original Press Release:

GE Fanuc Intelligent Platforms Announces New DataViews 9.25 Graphic Development Tools for High Performance Custom Visualization Solutions



Harnessing the next generation 64-bit chipsets to push applications further
Charlottesville, VA, August 25, 2009 GE Fanuc Intelligent Platforms, a unit of GE Enterprise Solutions, today announced the latest release of DataViews 9.25, a set of high quality graphic visualization development tools for building custom applications. The new version includes new features that enhance performance of display updates, support the use of scalable text in input object templates, and allow the setting of background color for Scalable Text objects.

DataViews 9.25 also introduces 64-bit operating system support for Red Hat Enterprise Version 5.3. This key feature enables developers to gain further performance from their application by having their DataViews-built components harness the 64-bit instruction set directly without the need of emulation. This is a key element for applications displaying a large amount of data in real time and ones requiring high performance. With release 9.25, DataViews now supports SPARC Solaris 10, Intel Solaris x86, and Red Hat Enterprise 5.3 (32- and 64-bit). In addition, Java programmers can now develop their applications using the DataViews Java API for Java 2 v1.6

"With DataViews 9.25 running natively on a 64 bit platform, we've increased the ability to harness the next generation of 64-bit chipsets and push applications further," said Mark Pipher, Product General Manager for HMI/SCADA products for GE Fanuc Intelligent Platforms. "This version introduces the capability to increase the application complexity and its visualization components, processing visualizations and data much faster when compared to 32 bit. DataViews' long standing reputation for saving IT managers development money, its multi-platform support, and reliability compliments this new 64-bit support and is part of GE Fanuc's Open & Layered strategy of software development."

DataViews is a dynamic visualization toolkit that allows customers to develop high quality visualizations within their applications in order to fit their specific needs. With more than 15 years of ongoing development, applications created with DataViews can be found in many different industries for a wide variety of custom applications including an onboard combat tank battlefield identification system, a metropolitan traffic control system, and a warship damage control system. The multi-platform support and powerful graphical development editor have been the keys to DataViews ongoing success.

"DataViews saves programmers significant development time," continued Pipher. "And, it allows graphical objects to be developed and imported quickly and easily rather than having to develop them in code. It fits seamlessly in the application being developed and leverages industry standard solutions to save data connectivity development time."
DataViews is available immediately. For more information: www.gefanuc.com/dataviews.

About GE Fanuc Intelligent Platforms
GE Fanuc Intelligent Platforms, a joint venture between General Electric Company (NYSE:GE) and FANUC LTD of Japan, is an experienced high-performance technology company and a global provider of hardware, software, services, and expertise in automation and embedded computing. We offer a unique foundation of agile, advanced and ultra-reliable technology that provides customers a sustainable advantage in the industries they serve, including energy, water, consumer packaged goods, government & defense, and telecommunications. GE Fanuc Intelligent Platforms is a worldwide company headquartered in Charlottesville, VA and is part of GE Enterprise Solutions. For more information, visit www.gefanuc.com.

About GE Enterprise Solutions
GE Enterprise Solutions elevates customers' productivity and profitability with integrated solutions using sensors and non-destructive testing; security and life safety technologies; power system protection and control; and plant automation and embedded computing systems. Enterprise Solutions' high-tech, high-growth businesses include Sensing & Inspection Technologies, Security, Digital Energy, and GE Fanuc Intelligent Platforms. The business has 17,000 problem-solving employees in more than 60 countries around the world.

Proficy is a registered trademark of GE Fanuc Intelligent Platforms. All other trademarks are the property of their respective owners.

For more information contact:
Elli Holman
GE Fanuc Intelligent Platforms, Public Relations Manager
t: +1 508 698 7456
m: +1 508 298 8306
e: elli.holman@gefanuc.com