Graphic HMI Solution fosters end-user productivity.
Press Release Summary: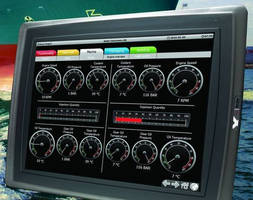 Offering 3D-style graphics and icon-based navigation and controls, iX motivates user interaction with working environment to promote efficient work flow and downtime reduction. Vector-based graphics support scaling and rotation without loss of image quality, while ready-made symbols and objects from component library, with matches for several industrial applications, reduce design time. Other features include support for import of WPF objects and .Net controls, multiple graphical effects, and support for Windows media objects.
---
Original Press Release:

iX - The World's Most Graphic HMI Solution



New HMI-concept provides realistic user interfaces
Industrial visualization is in a state of change. Now, industrial user interfaces take on inspiration from consumer-oriented products like personal computers, mobile phones, MP3 players, etc. with advanced 3D-style graphics, icon based navigation and controls. However, impressive user interfaces have a wider perspective reaching beyond the good looks. They motivate users and operators to interact with the working environment in a positive way. The traceable consequence is a more efficient work flow and reduced downtime - both factors which lead to increased profit.

A common look and feel among the products, graphics and environments that represent a corporation's ideas and vision, contribute to brand distinction and consistent customer experiences. iX lifts the concept of a HMI solution from merely being a functional add-on, to becoming an integral part of a user experience by adding the right look and feel with advanced 3D-style graphics, icon based navigation and controls.

The user can take advantage of vector-based graphics, enabling to scale and rotate objects, which stay crystal clear without jagged edges or inconsistent color transitions. The import of WPF objects and .Net controls allows to use the vast resources behind Microsoft´s .Net framework. Add drop shadows, bevels and choose opacity for objects in addition with other graphical effects are just a few functions to create a realistic user environment. iX also enables to incorporate Windows media objects like Media Player, Internet Explorer and PDF-viewer for easy understand process explanation.

Design time is reduced drastically with ready-made symbols and objects from the component library, which matches for several industrial applications. By applying dynamics in HMI applications, it´s easy to draw the attention of an operator to interact with an ongoing process or supervisory staff. The project engineer is able to generate individual graphical operator interfaces and offer end customers a recognizable added value in terms of user-friendly operation and improved user satisfaction.

For once could you translate this boiler plate?

Beijer Electronics is a fast growing technology company with extensive experience of industrial automation