Graphic Display Module suits vehicular instrumentation.
Press Release Summary: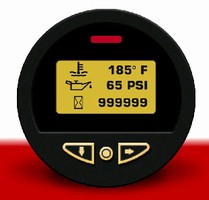 Sealed to IP67 specifications in front and rear, 2-in. NGI® Graphic Display Module works alone or with existing instrumentation by connecting it to SAE J1939 data bus. Backlit LCD is 106 x 56 pixels, providing clear graphics. Text and symbols can be static, dynamic, or combination of both, and backlighting can be red, green, blue, amber, or white. Operating from 9-32 Vdc, unit includes switch-to-ground output that can control external annunciator, relay, or other device.
---
Original Press Release:

Ametek Dixon Offers Compact Stand-Alone 2-Inch Graphic Display Module



Versatile Gauge Can Be Used Alone or With Existing Instrumentation

GRAND JUNCTION, CO-The latest addition to AMETEK Dixson's NGI® vehicular instrumentation system is a Stand-Alone 2-Inch Graphic Display Module. The compact module provides the advantages of a graphic display in a rugged, versatile gauge that can be used either by itself or as a complement to existing instrumentation simply by connecting it to an SAE J1939 (CAN) data bus.

The gauge is sealed to IP67 specifications both front and rear. The backlit liquid crystal display is 106 pixels wide and 56 pixels high, providing clear, legible graphics. A dead-fronted warning indicator is positioned above the graphic display window. Three backlit switches with tactile feedback provide a user interface.

The module can display data directly from the vehicle data bus or text and graphics as specified by a customer. Text and symbols can be static, dynamic (scrolling or marquee) or a combination of both. Backlighting can be red, green, blue, amber or white. The warning indicator also can be any one of these colors.

The module operates from 9 to 32 volts DC and includes a switch-to-ground output that can be used to control an external annunciator, relay or other device.

The 2-Inch Graphic Display Module meets all SAE J1455 and J1113 requirements for vehicular instrumentation and was developed to withstand harsh conditions typical of off-road environments.

Typical applications for the versatile module include heavy trucks; buses, coaches and recreational vehicles; forklifts, wheel loaders and skid steers; cranes, road-building and construction equipment; earth-moving and mining vehicles; utility and emergency vehicles; farm and agricultural vehicles; and stationary engine instrumentation.

AMETEK Dixson NGI® Instrumentation System

The NGI® system is a fully digital, multiplexed dashboard instrument system developed by AMETEK Dixson as a reliable, expandable and cost-effective alternative to analog gauges traditionally found on buses, heavy trucks, agricultural /construction equipment and other vehicles. It incorporates the latest digital technology and manufacturing techniques and can satisfy the instrumentation requirements of nearly all vehicle platforms.

The highly modular system readily lends itself to both retrofit and new dashboard instrument panels. It can accommodate as many as 24 modules (including a light bar). Using fewer gauges, the NGI system is appropriate for off-road vehicles such as construction and agricultural equipment and material handling vehicles. Among the features incorporated into the NGI® system are:

o Modular Design - All NGI® gauges incorporate the same pointer drive mechanism. That means only one type of assembly is manufactured and tested rather than separate assemblies for each size gauge. Cosmetic changes can be made simply and inexpensively.

o Manufacturability - NGI® gauges simply snap together. No crimping of bezels or nut-and-stud assembly is required. The gauges mount into standard two- and three-inch cutouts.

o Six Sigma Quality - The NGI® system was designed and developed in accordance with AMETEK Dixson's Six Sigma program. Gauges and feature light-piped, life-of-vehicle, amber LED backlighting, 270o sweeps and highly readable graphics. The system requires no calibration or maintenance. Both English and metric scales, with and without subscales, are available.

AMETEK Dixson is the leading U.S. manufacturer of custom dashboard instruments and displays for heavy trucks, construction, and agricultural equipment. It is a division of AMETEK, Inc., a global manufacturer of electronic instruments and electric motors with annualized sales of more than $1.8 billion.

For more information on the Stand-Alone 2-Inch Graphic Display Module, contact AMETEK Dixson, 287 27 Road, Grand Junction, CO 81503-1900. Phone: 970-244-1241. Fax: 970-245-6267. Web site: ametek.com/dixson

CONTACT: Paul Baier (970) 256-4444
e-mail: paul.baier@ametek.com

More from Optics & Photonics