Granulizer grinds hard, abrasive materials.
Press Release Summary: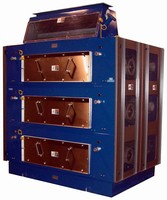 Intended for ultra-high purity grinding applications, Model 1052 Gran-U-Lizer(TM) can grind hard, abrasive materials, such as polysilicon, silicon, and cadmium telluride to various sizes with little to no foreign material contamination. It delivers high particle uniformity with minimal fines and adjusts to achieve median sizes from 120-500 µm.
---
Original Press Release:

Model 1052 Polysilicon and Cad Tel Gran-U-Lizer(TM)



Modern Process Equipment (Chicago) introduces the Model 1052 Gran-U-Lizer(TM), inclusive of new material technology, for ultra-high purity grinding applications. This grinding technology is proven to grind hard, abrasive materials, such as polysilicon, silicon and cadmium telluride, to various sizes with little to no foreign material contamination. Additionally, the 1052 delivers high particle uniformity with minimal "fines" and adjusts to achieve median sizes from 120 to 500 microns (µm).

If you would like to explore whether or not the Model 1052 is a good fit with your application, please contact MPE at 773-254-3929 or visit www.mpechicago.com.

Also, MPE offers no-cost, on-site particle reduction (grind) testing of your product application, including silicon and cadmium telluride, at their test lab. This testing center is fully-equipped to test your product to determine the best Gran-U-Lizer configuration to achieve your specific particle size distribution. When your sample is received at the Testing Facility, MPE prepares the necessary grinder configuration and conducts on-site particle reduction tests. Once the best grinding parameters are determined, MPE sends you a complete report illustrating the size distribution of your product as well as product samples for your review. MPE also guarantees that once the Gran-U-Lizer is installed at your facility, your results will meet or exceed those previously achieved during both the MPE laboratory and pre-shipment testing.

To inquiry about MPE's testing capabilities for your application, please contact MPE today!

About MPE

Modern Process Equipment Corp. (MPE) is the world's leading manufacturer of precision particle reduction equipment. MPE has been supplying its customers with superior particle size reduction solutions for over forty years, earning the reputation as the place to go to improve product yields and reduce the generation of unwanted fines. MPE aspires to design and manufacture the most modern, innovative and highest quality equipment with the most responsive, practical and timely service possible.

For more information about MPE's complete line of equipment, contact Modern Process Equipment, Inc. 3125 South Kolin Avenue, Chicago, IL 60623; call 773-254-3929; visit www.mpechicago.com.

Contact:
Lizzie Ephraim
Modern Process Equipment, Inc.
P: (773) 254-3929,
lizzie@mpechicago.com

Related