Granulators process variety of plastic parts and films.
Press Release Summary: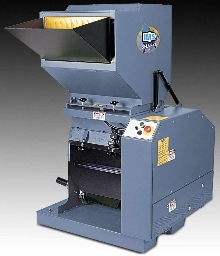 Suited for injection, extrusion, and blow molding operations, custom-built IMS SHARXX Line(TM) Granulators enable users to reclaim and reuse plastic scrap. Products are offered in 10 models and 25 sizes, which include beside-the-press models and central models with light-, medium-, and heavy-duty capacities. Machines process variety of plastics, from sprues/runners and small parts to film and pipe to larger parts, web scraps, and purgings.
---
Original Press Release:

New IMS Sharxx Line(TM) Plastic Granulators


Chagrin Falls, Ohio.....IMS Company proudly introduces the new IMS SHARXX Line(TM) of Plastic Granulators for injection, extrusion and blow molding operations. IMS SHARXX Line(TM) Granulators can significantly reduce your material costs by enabling you to reclaim and reuse your plastic scrap. Numerous, unique design features help minimize maintenance time and expense. Multiple safety features help prevent injuries.

Offering a full range of granulators - ten models and 25 sizes - IMS SHARXX Line(TM) features light, medium and heavy duty models. Choose from convenient, beside-the-press models or large, central models to quickly, cleanly and quietly granulate all your scrap plastic.

Light duty Pygmy and Spinner Sharxx Models process sprues/runners and small parts. The light/medium duty Goblin Sharxx handles sprues/runners, small-to-medium parts and film, while medium duty Reef Sharxx processes sprues/runners, medium parts, pipe and film. Heavy duty Mako, Megamouth, Thresher, Hammerhead, Great White, and Whale Sharxx Models all process sprues/runners, larger parts, pipe, film and web scraps. Thresher, Great White and Whale also process purgings.

Every IMS SHARXX Line(TM) Plastic Granulator is custom-built to individual specifications. Customers choose from a variety of options to create a grinder to best suit each operation.

IMS evaluates each customer's needs with a free test run on excess plastic material supplied by the customer to recommend the size and type of IMS SHARXX Line(TM) Plastic Granulator best suited to the operation.

IMS is a leading distributor of auxiliary equipment and supplies for the plastics processing industry.

For more information about the new IMS Sharxx Line(TM) from IMS Company, send an e-mail to sales@imscompany.com or contact IMS Company, 10373 Stafford Road, Chagrin Falls, Ohio 44023-5296. Phone: 800.537.5375. Fax: 888.288.6900.

About IMS Company

IMS Company, headquartered in Chagrin Falls, Ohio, has been providing accessory equipment and supplies to the plastics processing industry for over 50 years. The company specializes in helping customers find innovative solutions to all types of plastics processing problems. In addition to providing quality molding accessories, equipment, and refurbishing services, IMS offers a toll-free hotline for engineering and technical support.

http://www.imscompany.com/

ORDER LINE: 800.537.5375
TECH-SUPPORT TOLL-FREE HOTLINE: 866.467.9001

More from Agricultural & Farming Products