Grado Launches GW100 Wireless On-Ear Headphones with a Frequency Response of 20 Hz-20 KHz
Press Release Summary: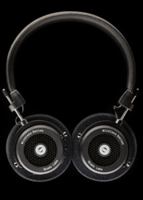 The Grado's GW100 Wireless On-Ear Headphones come in open-backed design with a nominal impedance of 32 ohms. The product features a 320 mAH battery that offers up to 15 hrs usage and can be charged via micro USB. It is compatible with Bluetooth version 4.2 and provides connection up to a distance of 10 m from the paired audio source.
---
Original Press Release:
4OurEars.net Announces the GW100 Headsets, Grado Labs First-Ever Wireless On-Ear Headphones, Are Now Available
Grado Labs introduces their first wireless headphone
BROOKLYN, N.Y. (PRWEB) DECEMBER 10, 2018 - After years of development, the legendary boutique audiophile brand Grado Labs has released a set of Bluetooth-based wireless on-ear headphones. These groundbreaking headphones are now in stock at 4OurEars.net - The Official Grado Store.
Grado GW100 headphones carry on Grado's commitment to comfortable, ergonomic, open-backed design, with a frequency response of 20Hz~20KHz and a nominal impedance of 32 ohms. The 320mAH battery provides up to 15 hours of usage before needing to be recharged via micro USB. Bluetooth version 4.2 compatibility provides strong connections up to 10m from the paired audio source.
Despite all the advances within these iconic Grado headphones, they have been priced to be affordable for any music lover, while still out-performing the wireless competition. At $249.00, 4OurEars has the best prices to be found at any authorized Grado dealer, as well as offering free domestic shipping. Customer inquiries may be directed to rgrado@4ourears.com.
Many wondered if it was possible for Bluetooth-based headphones to have the same fidelity as traditional wired headsets, but early reviewers and users agree: Grado has done it. What sets the GW100 apart from other wireless on-ear headphones is the time and care Grado Labs put into their design. They spent years tuning the drivers specifically around the limitations of Bluetooth, until they could produce a sound on par with wired headphones.
As Grado Labs CEO John Grado said, "We took our time and made no compromises in the GW100. Nothing is lost except the wires."
The critics agree: 
"A wireless dream come true!" -Mario Aguilar, Gizmodo 
"Nothing at this price point can even compete with the GW100 in terms of sheer sound quality." -Carroll Moore, MajorHiFi 
"If you find yourself drawn to the Grado GW100, you won't be disappointed." -Lily Katz, SoundGuys 
"These cans are extremely comfortable and offer a soundstage you won't get from any other wireless headphone." -LaFonda, Headphone Dungeon
It might have taken Grado Labs a few years, but they've accomplished what many thought impossible: audiophile-quality wireless on-ear headphones, at an affordable price, with sound quality every bit as good as their wired headphones. The release of the GW100 marks a new chapter in the Grado history books, and they are highly recommended for on-the-go music lovers who had previously resisted a move to Bluetooth.
Whether a person is purchasing a GW100 for themselves, or looking for a perfect audiophile Christmas gift, 4OurEars.net is the top official source for all Grado headphones, phono cartridges and accessories.
About Grado Labs 
Founded in 1953 by master watchmaker Joseph Grado, Grado Labs has had an indefatigable dedication to quality since day one. In contrast to the mass-market mass-produced products of their competition, Grado Labs has always focused on smaller product runs, with nearly every product individually hand-assembled in their Brooklyn facilities. This has given them unparalleled quality control over their products, and a reputation as the brand true audiophiles turn to for the absolute best in sound reproduction.
About 4OurEars.net 
4OurEars.net is the official online store for Grado products. Music lovers can purchase officially-warrantied Grado headphones and phonographic equipment, and with free domestic shipping. 4OurEars is the only authorized USA Amazon reseller of Grado products.
Contact Information
Eric Jones
+1 (718) 727-5185
More from Test & Measurement