GQ Series Reflow Solderable Relays meet RoHS and REACH standards.
Press Release Summary: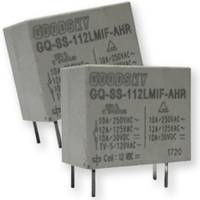 Suitable for applications such as office machines, domestic appliances and audio equipment, GQ Series Reflow Solderable Relays can be operated up to a temperature of 105°C. Designed to withstand harsh melting temperatures of the reflow soldering process, units come with THR (Through-Hole Reflow) technology. Relays are offered with UL Class F insulation and 8 mm coil to contact creepage with 10 kV surge strength.
---
Original Press Release:
New Yorker Electronics Releases New Through-Hole Relays That Withstand Reflow Soldering
New Goodsky/ECE Innovation Stands Up to the High-Temperatures of the Reflow Soldering Process
New Yorker Electronics has released the Excel Cell Electric GQ Series of 1-Pole Reflow Solderable Relays, now available with THR (Through-Hole Reflow) Technology. The innovative new THR Series Through-Hole Type Electromechanical Relays from Excel Cell Electronic (Goodsky/ECE) now allow the GQ Series to withstand the harsh melting temperatures of the reflow soldering process.
In the past, the primary issue preventing through-hole components from passing through the reflow soldering process is that the process requires such high temperatures. This melts the solder paste in a matter of minutes and the plastic material in the through-hole relay could also melt and cause an electrical malfunction.
However, after years of research in through-hole type electromechanical relays, Goodsky/ECE discovered several supreme standard plastic materials that can withstand the high, punishing temperatures of the reflow soldering process. From this, ECE developed the THR Series of Relays. The THR version can withstand the IEC 60068-2-58 Reflow Soldering. To help determine individual cost savings, simply submit through-hole reflow soldering profiles with the preferred cross relays to New Yorker Electronics for an analysis.
Excel Cell Electronic's GQ Series is not the only series that can be specially made into THR standard. Other major relay series such as RWH, JE, GCJ, GU, EMI-2P, SF and others can be customized to THR versions. Moreover, additional values and features can be added such as UL Class F, IEC 60335-1 glow wire and halogen free.
Features & Benefits:
Miniature size 0.2W low power consumption
Operating temperature to 105°C
RoHS and REACH compliant
UL Class F (155°C) insulation available
8mm coil to contact creepage Surge Strength 10KV
Applications:
Domestic Appliances
Office Machines
Audio Equipment
New Yorker Electronics is a franchise distributor of Excel Cell Electronic (ECE) and carries its full line of Dip and Micro Switches, Connectors, Terminal Blocks, Relays, Chip Inductors, Chip Beads and Resettable Fuses.
ABOUT NEW YORKER ELECTRONICS
New Yorker Electronics is a certified franchised distributor of electronic components, well known for its full product lines, large inventories and competitive pricing since 1948. New Yorker Electronics is an AS9120B and ISO 9001:2015 certified source of capacitors, resistors, semi-conductors, connectors, filters, inductors and more, and operates entirely at heightened military and aerospace performance levels. It also functions in strict accordance with AS5553 and AS6496 standards - verifying that it has implemented industry standards into everyday practices to thwart the proliferation of counterfeit parts. It is a member of ECIA (Electronics Component Industry Association) and of ERAI (Electronic Resellers Association International).
More from Materials