Global Positioning Systems (GPS)
GPS Receiver Module utilizes AEC-Q compliant components.
Press Release Summary: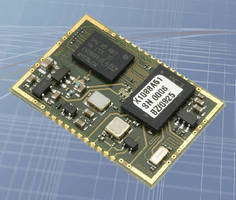 Based on SiRFstarIII chipset, Model A1088-A is completely shielded and designed for use with active antennas, reaching acquisition sensitivity of -145 dBm. In tracking mode, sensitivity goes down to -159 dBm and current draw is typically 32 mA at 3.3 V. Module includes additional low power modes where current draw can be reduced to 10 µA. Measuring 19 x 28 mm², module is specified for industrial temperature range of -40 to +85°C and is intended for automotive use.
---
Original Press Release:

Vincotech's 'Automotive' GPS Receiver Module A1088-A



Reliability, quality and performance brought into focus

Munich, Germany - August 12, 2009 - Vincotech, a leading supplier of GPS receiver and telematics hardware solutions, extends its portfolio of GPS receiver modules by a variant specifically designed and manufactured to address requirements in the automotive industry. While in many areas of consumer electronics design the trend is towards further miniaturization of devices, the key emphasis of product designs for the automotive industry is reliability and quality. In combination with the outstanding performance of a SiRFstarIII chipset Vincotech addresses exactly these requirements with its new A1088-A.

The automotive industry was certainly amongst the first users of GPS technology. Long before PNDs (Personal Navigation System) came to life GPS navigation systems could be found in many vehicles, most typically luxury class cars. While devices for consumer applications need to be very compact the automotive industry puts emphasis on reliability and quality, long term availability of products, and manufacturing characteristics that allow for 100% visual inspection during assembly. All applications are further driven by the need for high GPS sensitivity along with low power consumption. For the first time, with Vincotech's new A1088-A complete GPS receiver module sub-system, all these requirements can be met.

The major feature of the A1088-A is the sole use of AEC-Q compliant components. AEC-Q stands for Automotive Electronic Council, a council founded by the automotive industry defining stringent standards for the qualification of electronic components. Thus the reliability standard of the module is guaranteed. Design and manufacturing of the A1088-A is done according to ISO/TS 16949. This standard, recognized and applied by automotive manufacturers, addresses system and process quality and is very often the basis for quality audits. The consequent implementation of this standard is a testament to the highest production quality combined with backwards traceability. An important aspect is also the utilization of "mature" technologies. Of note, the SiRFstarIII GPS chip set is well established in many consumer and automotive applications. In combination with the proven and thoroughly tested navigation firmware which calculates and puts out the GPS data, the A1088-A module stands for reliability and performance.

Vincotech's A1088-A is completely shielded. The shield itself carries are bar code containing all the module's relevant data down to a unique serial number. The module is designed for use with active antennas thus reaching an acquisition sensitivity of -145dBm. A good operating environment allows "cold start" conditions to calculate a first position within less than 35s (TTFF - time to first fix). In tracking mode the sensitivity goes down to -159dBm. Here the current draw is typically only 32mA at 3.3V. The module features additional low power modes where the current draw can be reduced to only 10µA. The A1088-A is specified for the complete industrial temperature range from -40°C to +85°C. The outer dimensions are 19 x 28 mm² with the solder pads on the rim of the module. Therefore, a 100% optical inspection can be done during assembly.

With the A1088-A and the accompanying evaluation boards Vincotech offers fast integration of GPS technology for customers in the automotive environment by addressing the specific requirements of this industry.

Vincotech is a trademark.

ABOUT VINCOTECH

Vincotech develops and manufactures subsystems and electronic components and offers manufacturing services geared to help customers to master complex challenges in electronics integration. Vincotech's extensive portfolio encompasses standard and tailored solutions, engineering services, and technical support for customers worldwide. These products and services contribute to sustainable, environmentally sound solutions that help modern society embrace mega-trends and explore new avenues.
With approximately 600 employees worldwide, backed by vast experience and a long history in electronics integration, Vincotech leverages these assets to help customers achieve maximum market success.

To learn more about Vincotech, please visit www.vincotech.com.

More from Communication Systems & Equipment