GPS/Multiband Vehicle-Mount Antenna offers magnetic mounting.
Press Release Summary: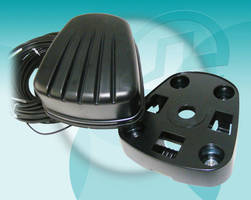 Panther series GPSMB501 consists of 5 connectors to access 5 antenna solutions: 2 MIMO cellular, 2 dual-band MIMO WLAN, and one global navigation satellite system (GPS plus Glonass). For signal clarity, antenna delivers >40 dB isolation across Wi-Fi® to Wi-Fi ports and >15 dB isolation from LTE-to-LTE ports with VSWR of <1.5:1 in LTE bands and 1.4:1 in Wi-Fi bands. GPS LNA is filtered for out-of-band rejection of >55 dB at 1,710 and 2,170 MHz bands and >75 dB at 824 and 960 MHz bands.
---
Original Press Release:

Pulse Electronics' Panther Series GPS/Multiband Vehicle-mount Antenna Improves Data Throughput and GPS Navigation



Magnetic mount base for easy installation and removal



San Diego, Calif. – Pulse Electronics Corporation introduces a new combination GPS/multiband vehicle-mount antenna with superior port-to-port isolation for excellent signal clarity. An optional magnetic mount base makes this antenna easy to install and remove without drilling a hole in the vehicle. Pulse's GPSMB501 antenna consists of five connectors to access five antenna solutions -- two MIMO cellular and two dual-band MIMO WLAN and one for a global navigation satellite system (GPS plus Glonass). The Panther GPS multiband antenna improves data throughput and navigation for telematics, infotainment, and location-based applications in all types of fleet, public safety, delivery, utility, and transit vehicles.



Pulse's multiband antenna delivers over 40dB isolation across WiFi-to-WiFi ports and over 15dB isolation from LTE-to-LTE ports with a voltage standing wave ratio (VSWR) of <1.5:1 in LTE bands and 1.4:1 in WiFi bands. Isolation is further enhanced by a GPS low noise amplifier filtered for out-of-band rejection of over 55dB rejection at 1710MHz and 2170MHz bands and over 75dB rejection at 824MHz and 960MHz bands.



"Pulse's new Panther series antennas are a premium product and live up to Pulse/Larsen's well-established reputation for quality," said Olivier Robin, general manager for Pulse Electronics Wireless Infrastructure business unit. "Not only does the magnetic base option make installation and removal easy, but this aesthetically pleasing solution combines ideal radiation performance for today's demanding propagation environments with optimum isolation characteristics to ensure the highest data rates and signal integrity possible."



The Panther series GPSMB501 measures approximately 147mm x 160mm x 75mm. Environmental specifications include ingress protection of 67 (IP67) and mil-standard testing for humidity, vibration, thermal shock, and accidental drop. The cable length comes standard at 17 feet, with either SMA or RPSMA connectors. Cable lengths and connector variations are possible upon request. The GPSMBMM magnetic mount is an optional magnetic mount base configured for ease of use with the GPSMB501.



Lead-time for delivery is 6-8 weeks for volume quantities; small quantities are available in stock. For more information check out the datasheet at http://productfinder.pulseeng.com/product/GPSMB501, visit the website at http://www.pulseelectronics.com, or contact Pulse Electronics at antennas.us@pulseelectronics.com.



About Pulse Electronics

Pulse Electronics is a leading provider of electronic components that help customers build the next great product by providing the needed technical solutions. Pulse Electronics, including the Larsen brand of antennas, has a long operating history of innovation in antennas, magnetics and connectors, as well as the ability to ramp quickly into high-quality, high-volume production. The Company serves the wireless and wireline communications, power management, military/aerospace, and automotive industries. Pulse Electronics is a participating member of the IEEE, SFF, OIF, HDBaseT Alliance, CommNexus, NFC Forum, MoCA, and IWPC. Visit the Pulse Electronics website at www.pulseelectronics.com.



Copyright ©2015 Pulse Electronics Corporation. All rights reserved. All brand names and trademarks are properties of their respective holders.



Pulse Electronics

Paul Fadlovich

Director of Marketing

Pulse Electronics, Infrastructure Wireless Division

Phone: +1.360.859.5022

Email: pfadlovich@pulseelectronics.com

Related